Panama's Voters Should Thank George H.W. Bush
Democracy wins out in Panama.
by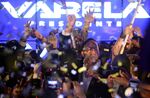 Juan Carlos Varela's victory in Panama's presidential election on Sunday is a happy surprise. Polls had suggested that Panama was going to be the latest Latin American country to follow Argentina down the path of "conjugal continuismo": Barred by law from running again, President Ricardo Martinelli had put his wife as vice president on his chosen successor's ticket. Varela's narrow win in a three-way race blocked that gambit.
That said, Varela's economic policies likely won't deviate much from those pursued by Martinelli, whose infrastructure spree -- an expansion of the Panama Canal, Central America's first subway and a thicket of skyscrapers -- made Panama one of the world's fastest-growing economies. And despite Varela's campaign pledges to reduce inequality, power will remain in the hands of the elite: As the political scientist Greg Weeks put it, "we are seeing a switch from big supermarket money to big rum money." (His family controls Varela Hermanos SA, the nation's biggest producer of sugar-cane based spirits.)
Yet Varela's campaign pledge to promote transparency and fight corruption offers Panama a sorely needed chance to clean up its act. During Martinelli's tenure, Panama dropped nearly 30 places in Transparency International's Corruption Perceptions Index, from 73rd in 2010 to 102nd in 2013. To cite one egregious instance of Martinelli's bad behavior, the U.S. Embassy in Panama almost spit up its canapés after he asked for help in wiretapping his opponents. Billions in infrastructure spending created opportunities for bribery and bid-rigging. And bad guys have been drawn to Panama's thriving free-trade zones and light tax regimen.
One timely place for Varela to start might be campaign finance: Panama has no limits on contributions or on spending, and no requirements for public disclosure of campaign revenues. And there's no shortage of other things he could do to shore up Panama's judiciary, legal system and tax code to make things better for the average Panamanian.
Since U.S. forces ousted drug-running strongman Manuel Noriega in 1989, Panamanian voters have developed a healthy suspicion of the accretion of power. (Note to President Barack Obama: Even the messiest and most dubious U.S. military interventions can sometimes have semi-happy endings.) In five elections since then, Panamanians have turned out the incumbent party. But throwing the bums out won't make much difference if the rules of the game don't get changed for the better.
This column does not necessarily reflect the opinion of Bloomberg View's editorial board or Bloomberg LP, its owners and investors.