Europe's Money-Market Problem
Shifting to negative interest rates, whereby the European Central Bank charges banks for the privilege of leaving cash on deposit, is probably high on the Governing Council's agenda for Thursday.
by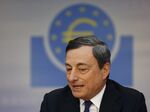 The European Central Bank has kept its benchmark main refinancing rate at a record low of 0.25 percent since November 2013, as its primary tool in efforts to resuscitate growth in the euro region. Moves in the money markets, however, are undermining that monetary policy stance, increasing the pressure on President Mario Draghi to find something new in the tool box.
The cost of borrowing euros for three months, known as the euro interbank offered rate, has been drifting higher all year. On April 29, it reached a high of 0.347 percent: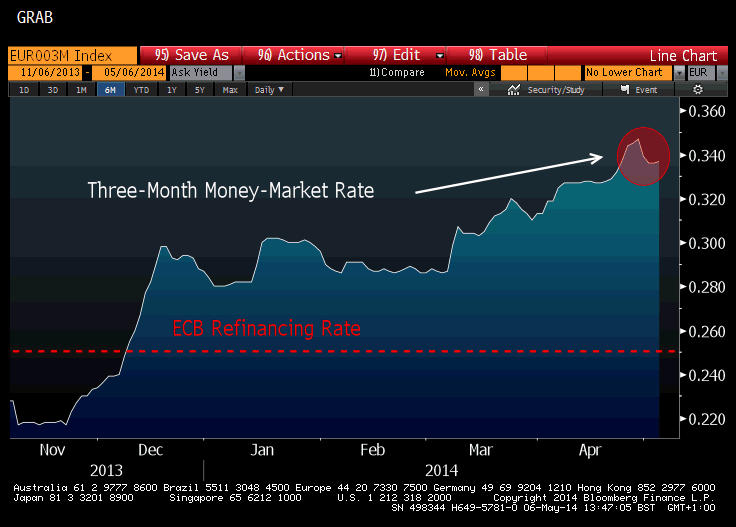 When companies borrow money at a floating interest rate -- often preferable to fixed rates, on the basis that your revenue goes up and down with the economy and with interest rates -- those loans are typically tied to three-month borrowing costs. So the ECB refinancing rate, which has more to do with banking than the real economy, starts to lose its stimulative power when it gets ignored by money-market rates.
There's a similar trend in overnight interest rates starting to nudge higher toward the ECB rate, although that picture is somewhat distorted by month-end cash shortages: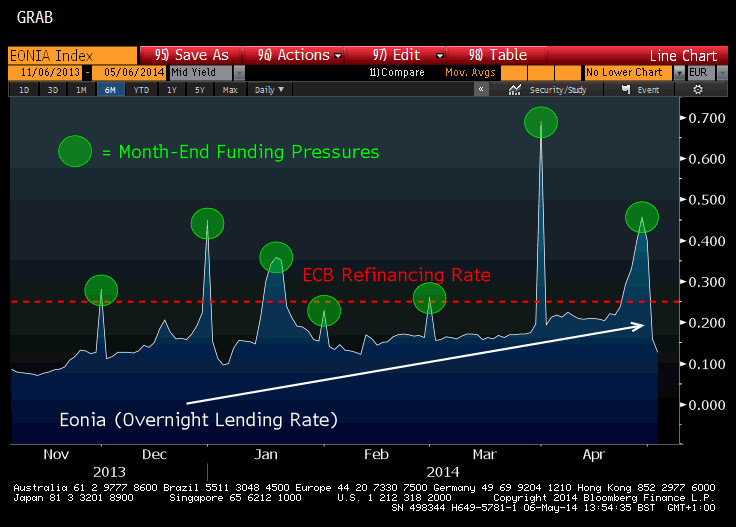 And finally, there's the euro itself, tickling the $1.40 level after appreciating by more than 6.6 percent against the dollar in the past year and sending fear into the hearts of European exporters: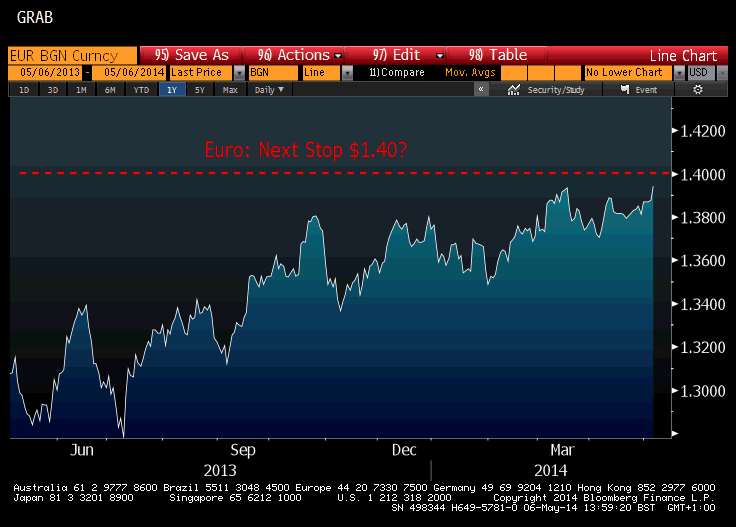 At the April 3 news conference after the ECB's most recent policy meeting, Draghi was asked whether there was a particular exchange-rate backdrop that might prompt additional action from the central bank:
"The exchange rate is very important for price stability," Draghi said. "It's an increasingly important factor in our medium-term assessment of price stability, but it's not a policy target."
The ECB has two tricks left up its sleeve. Firing up its so-called Outright Monetary Transactions policy by buying government debt probably remains a step too far for now.
QuickTake Europe's QE Quandary
Shifting to negative interest rates, however, whereby the ECB charges banks for the privilege of leaving cash on deposit at the central bank, is probably high on the Governing Council's agenda for Thursday's meeting. Although only two of the 53 economists surveyed by Bloomberg News are predicting that the ECB will cut its deposit rate from zero, the money-market backdrop suggests there's a non-negligible risk of the ECB doing just that.
This column does not necessarily reflect the opinion of Bloomberg View's editorial board or Bloomberg LP, its owners and investors.