Did Samantha Power Just Rebuke Obama on Syria?
Last week, in a powerful speech that should have received more attention than it has so far, Samantha Power, the U.S. ambassador to the United Nations, seemed to rebuke the administration in which she serves for its handling of the Syria catastrophe.
by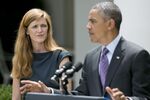 Last week, in a powerful speech that should have received more attention than it has so far, Samantha Power, the U.S. ambassador to the United Nations, seemed to rebuke the administration in which she serves for its handling of the Syria catastrophe.
Power was speaking at a Holocaust Memorial Museum dinner, at which she presented the museum's Elie Wiesel Award to the Canadian general Romeo Dallaire -- one of the few Westerners who tried to protect Rwandans as they were being slaughtered (as opposed to weeping for them after they were murdered, which was the more common Western response).
In the course of her speech, Power condemned those who argue that the choice facing the West in Syria is between full-on military engagement and doing nothing. She was also particularly harsh on the subject of leaders who avoid acting until humanitarian crises spin into chaos.
"In preventing mass atrocities, we must redouble our emphasis on early engagement," Power said. "The sooner we act, the more options we will have. That requires developing solutions to potential atrocities before they become actual ones. And to those who would argue that a Head of State or government has to choose only between doing nothing and sending in the military -- I maintain that is a constructed and false choice, an accompaniment only to disengagement and passivity."
So who, exactly, is propagating these constructed and false choices?
Well, here is what Susan Rice, Barack Obama's national security adviser, told David Gregory on Meet the Press in February: "We have every interest in trying to bring this conflict to a conclusion. But if the alternative here is to intervene with American boots on the ground, as some have argued, I think that the judgment the United States has made and the President of the United States has made is that is not in the United States' interests. We are very much committed to trying to work to resolve this conflict, but in a way that doesn't insert the United States back into a hot, bloody conflict in the middle of the Middle East."
Robert Satloff, the executive director of the Washington Institute for Near East Policy, first pointed out Power's off-message message on Twitter. When I asked him via e-mail what he made of this, he wrote: "Samantha Power is a serious person, whose views on the horror of genocide and the immorality of inaction to prevent it are well known. Given that the administration has defined the alternatives in Syria as stay away versus boots-on-the-ground, it is difficult to read her stark statement about this 'false choice' as anything but a critique of the administration she has sworn to serve."
(Administration officials with whom I spoke said that Power's speech was vetted by the White House. If this is indeed the case, the vetters missed, or chose to ignore, her not-so-veiled commentary on the price of inaction.)
The president himself has spoken in the binary manner that Power clearly does not admire. In Manila last week, Obama said that, "Most of the foreign policy commentators that have questioned our policies would go headlong into a bunch of military adventures that the American people had no interest in participating in and would not advance our core security interests."
I'm having trouble coming up with the names of foreign policy commentators who would like to see the U.S. participate in "military adventures" either in Syria or in Ukraine. Most foreign policy commentators I know believe that the introduction of U.S. troops into either conflict would be disastrous.
And in Syria, particularly, it might be too late for even a committed, creative U.S. to do much to stop the slaughter of innocent people by Bashar al-Assad's barbaric regime. Three years ago, when the rebellion in Syria was dominated by non-Islamist Syrians, rather than by al-Qaeda-style jihadists -- many of them foreign militants -- as it is today, the U.S. might have been able to shape, train, arm and advise anti-Assad forces in meaningful ways. Three years ago, when the fight in Syria was merely a civil war, and not, in the words of an important (and also overlooked) Holocaust Museum statement issued earlier this year, an "overtly sectarian conflict in which civilians are targeted for atrocities based upon their religious and ethnic identity," American engagement might have worked. The task would be much more difficult today. The U.S. is the largest provider of humanitarian aid in Syria, and the Obama administration did force Assad to give up most of his chemical weapons. But the slaughter has only intensified since the "red line" controversies of last year.
When I asked the president in February if he could have done more to help the opposition in the early days of the uprising, he said, "I think those who believe that two years ago, or three years ago, there was some swift resolution to this thing had we acted more forcefully, fundamentally misunderstand the nature of the conflict in Syria and the conditions on the ground there." He went on to say, "The notion that we could have, in a clean way that didn't commit U.S. military forces, changed the equation on the ground was never true."
My reading of Power is that she is predisposed to disagree with this sort of assessment. In "A Problem From Hell," an uncompromising and exhaustive look at the U.S.'s historic unwillingness to fight genocide -- both latent genocide and active genocide -- she wrote, "The United States should not frame its policy options in terms of doing nothing or unilaterally sending in the marines." Power goes on, "With its allies, it should set up safe areas to house refugees and civilians, and protect them with well-armed and robustly mandated peacekeepers, airpower, or both." (For a partial catalog of Power's statements on Syria, I would point you to this helpful Fred Hiatt column in the Washington Post.)
I know that Power has, on occasion, been making these sorts of arguments within the administration. She clearly hasn't won the day yet. I'm not sure another Holocaust Museum speech would help her bureaucratic cause, but I would like to hear the Power who wrote a groundbreaking book about the consequences of presidential inaction when humanitarian calamity strikes, state clearly what I suspect is on her mind.
This column does not necessarily reflect the opinion of Bloomberg View's editorial board or Bloomberg LP, its owners and investors.
To contact the author on this story:
Jeffrey Goldberg at goldberg.atlantic@gmail.com
To contact the editor on this story:
Zara Kessler at zkessler@bloomberg.net
Before it's here, it's on the Bloomberg Terminal.
LEARN MORE