Sex Harassment in the Skies
The average Cathay Airlines flight attendant must put up with being sexually harassed by a passenger approximately "one in every 10 flights."
by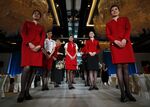 It's not easy being a flight attendant at Hong Kong's award-winning Cathay Pacific. Selection criteria are strict, service standards are high and, according to Michelle Choi, a Cathay union official, the average Cathay flight attendant must put up with being sexually harassed by a passenger approximately "one in every 10 flights."
She's not exaggerating. In February, the city's Equal Opportunity Commission and the Hong Kong Flight Attendants Association released the results of a survey showing that 27 percent of the city's flight attendants had been sexually harassed in the prior 12 months, and 47 percent had "either heard about or witnessed" a colleague being harassed. What's worse, the same survey revealed that 68 percent of the respondents had received no training on "preventing sexual harassment," and the remaining 32 percent had received their training from online courses.
Needless to say, Hong Kong's shame is the global aviation community's problem. Cathay Pacific doesn't just fly to Hong Kong; it's a rapidly expanding international carrier that will nearly double the number of flights it offers to the United States in 2014, while partnering with other carriers worldwide (including American Airlines). What Cathay and other Hong Kong carriers tolerate affects passengers (and perhaps lawyers) in countries worldwide.
The immediate origins of Hong Kong's airborne sexual harassment problem can be traced to several sources, including a culture of sexual permissiveness in high-end Hong Kong establishments (such as business-class cabins) that are frequented by wealthy and powerful men; an obvious failure by airlines to train and protect their employees; and a lack of legal protection from sexual harassment for service employees in Hong Kong. At the same time, it doesn't help that Cathay and other Hong Kong airlines have historically marketed their airlines using images of young, attractive flight attendants. Take, for example, the shy, unassuming Cathay flight attendant in a notorious 2011 print ad. "I just like to listen more than talk," she's quoted as saying, eyes averted demurely. It's not an invitation to harassment, but if a passenger (especially a drunk one) is inclined to harass, such an advertisement certainly wouldn't dissuade him (or her).
This type of marketing isn't exclusive to Hong Kong, of course. The U.S. aviation industry pioneered the practice of hiring and highlighting comely young flight attendants during the so-called "Golden Age" of aviation. The operational advantages of such hiring practices were always suspect; but from a marketing perspective, the airlines believed that they couldn't go wrong with the predominantly male corporate travelers who were essential to their businesses back then. Fortunately, the advent of mid-1960s anti-discrimination laws and lawsuits put an end to such hiring practices. (Some of the first discrimination complaints to the newly created U.S. Equal Employment Opportunity Commission in 1965 were made by flight attendants.) The sexualization of the men and women who roll drink carts down the center aisle gradually declined as well.
Sadly, Hong Kong is still a long way from meeting a still imperfect U.S. standard, as evidenced by Michelle Choi's decision to offer sex harassment figures to the South China Morning Post. The problem isn't just the high rate of harassment; Choi claims the rate has been increasing in large part due to uniforms that the union believes are immodest. Specifically, the flight attendants' blouses hike up and reveal skin when an attendant reaches up or down. "We believe the company intentionally does this to make us look a bit sexier and to let the passenger see more," Choi explained. Cathay, when contacted by South China Morning Post, declined to modify the uniform, stating that it had been designed with crew input before its introduction in 2011.
Needless to say, the airline should take the initiative and modify the uniform immediately, as well as implement a company-wide training program (and not just an online one) on how to handle and report sexual harassment from passengers. But these are modest steps that won't mean much if Hong Kong's government doesn't offer legal protections from sexual harassment for flight attendants and other service employees. Given the scale and high profile of this particular problem, they should, and soon.
This column does not necessarily reflect the opinion of Bloomberg View's editorial board or Bloomberg LP, its owners and investors.