One Banker Went to Jail, Two Prosecutors Got New Jobs
The Department of Justice says it hasn't brought criminal charges following the mortgage crisis because the evidence isn't there. New reporting puts that claim in doubt.
by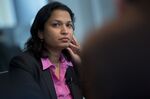 Why has just one top banker been imprisoned for the financial crisis? In this weekend's New York Times Magazine, ProPublica's Jesse Eisinger wrote that the answer is a Justice Department chastened by prosecutorial setbacks before the crisis, leaving an organization with neither the verve to seek criminal convictions nor the institutional know-how to achieve them.