Is Yankees' Tanaka Too Good to Be a Rookie?
Once again, it's time for sportswriters and former players to assert that we must reevaluate eligibility for foreign players to receive the Rookie of the Year award. 
by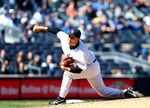 More than a month into the 2014 Major League Baseball season, New York Yankees pitcher Masahiro Tanaka and Chicago White Sox first baseman Jose Abreu are the consensus front-runners for American League Rookie of the Year. It's once again time, then, for sportswriters and former players to assert that we must reevaluate eligibility for foreign players to receive the award.
Over the weekend, ESPN's Jim Bowden and Fox Sports' Gabe Kapler each made the case for why players such as Tanaka and Abreu, who have played in international professional leagues, should not be considered for ROY honors. According to Bowden and Kapler, years spent in Japan's Nippon Professional Baseball and Cuba's Serie Nacional are akin to Major League experience, with a level of organization and competition higher than that in the MLB minor league system.
ESPN's Jayson Stark and others have been arguing against Japanese ROY candidates for more than a decade now, with the likes of Hideo Nomo, Kazuhiro Sasaki and, of course, Ichiro Suzuki winning the award in the past. The issue gained steam in 2003, when New York Yankees slugger Hideki Matsui made his highly anticipated Major League debut, hitting .287 with 16 home runs and 106 RBI and leading the discussion of ROY candidates that year. But Matsui had already played 10 years for the Yomiuri Giants in Japan, winning MVP three times in the Japan Central League and blasting 50 home runs the season before he came to the Yankees. So he became the poster boy for the non-rookie rookie, and voters opted not to give him the award -- despite the fact that Suzuki had won just two years earlier, with a similarly prolific Japanese career under his belt.
Tanaka and Abreu are the perfect candidates to reignite this debate, as both already have extensive experience on the field and have enjoyed great fame and success in their home countries. Tanaka, the crown jewel of the free agent class, played seven seasons with the Rakuten Golden Eagles, posting a 1.27 ERA in 212 innings pitched and finishing with a ridiculous 24-0 record last year. Abreu had played professionally in Cuba since the 2003-04 season, emerging as a triple crown threat and earning a spot on the national team in the 2013 World Baseball Classic.
It's true that leagues such as the NPB and Serie Nacional feature such a high level of play that to compare these players to, say, Kansas City Royals right-hander Yordano Ventura is rather unfair. At the same time, simply ruling foreign players ineligible raises many complicated questions. How do we judge which leagues are competitive and organized enough that their players don't count as rookies? Where, for example, do the Korea Baseball Championship or the Chinese Professional Baseball League fall in this evaluation? Players from the Dominican Republic are considered prospects, yet they're largely believed to join the majors at a much higher level than their American counterparts, thanks to the extensive baseball infrastructure and training academies funded by MLB and the league's 30 teams.
Further, if we're going to say that some foreign players are too experienced to be considered rookies, then we have to at least be consistent about our assessment of them. Tanaka is currently 4-0 with 51 strikeouts for the Yankees, but during the offseason scouts and writers alike doubted whether his stellar Japanese record would translate to the American game. The skepticism wasn't unwarranted, given the spectacular bust that Daisuke Matsuzaka turned out to be for the Boston Red Sox. But it doesn't make sense to question Tanaka's ability to pitch in the majors and then rule him too experienced to be a rookie after the fact, just because the experiment happened to work. We can't have it both ways.
The issue also raises the question of how we evaluate the careers and statistics of foreign players who come to MLB in a historical perspective. Ichiro is a sure-fire Hall of Famer based on his MLB numbers alone, but things get murkier when we consider a player such as Matsui. His MLB numbers aren't enough to earn him a spot in Cooperstown, but coupled with his NPB stats, he has more than 500 home runs and 2,600 hits -- certainly Hall-worthy. But we don't consider his combined stats, officially because Cooperstown is decidedly the "National" Baseball Hall of Fame, but also because, as Craig Calcaterra notes, "It makes logical sense to exclude NPB stats too: it's simply not the same level of competition as we see in MLB."
The logic that prevented Matsui from winning ROY in 2003 and wants to prevent Tanaka and Abreu from vying for the honor now can't be completely reversed to deny Matsui Hall of Fame consideration. We have to pick one and stick with it. While I agree that many foreign leagues play at a higher level than the Triple-A system, we still can't say for certain whether a Japanese player will find success in the majors based on his play overseas. We forget that for every Ichiro and Matsui and Tanaka there's also a Daisuke and a Hideki Irabu and a Kaz Matsui. (The Yankees themselves are still haunted by the ghosts of Irabu and *shudder* Kei Igawa.)
Kapler is right to suggest that MLB should figure out what to do when the NPB and Serie Nacional reach that level, but we're just not there yet. For now, enjoy watching the rookie campaigns of Masahiro Tanaka and Jose Abreu, one of whom will likely walk away with some well-deserved hardware at the end of the season.
This column does not necessarily reflect the opinion of Bloomberg View's editorial board or Bloomberg LP, its owners and investors.