view
Dueling Numbers on Obamacare
Republican lawmakers try to stir the Obamacare pot with some bad numbers.
by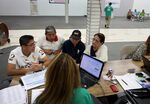 The official report for Obamacare's first open enrollment period is now out. Very little is surprising: Slightly more than 8 million people enrolled, most of them by April 1. About two-thirds of people enrolled through the federal exchanges, and one-third through state marketplaces.
The more lively debate came from a report by Republican lawmakers that purported to show that only 67 percent of people who bought policies on the federal marketplace had paid. The report is basically useless -- I just spent several hours trying to break down the data in order to extract an interesting conclusion, only to conclude that the data are simply insufficient. The report only collected data up to April 15, even though people had until April 30 to pay. Democrats screamed about the unfairness of it all, having apparently just discovered that they didn't like it when politicians selectively release data about the exchanges in order to bolster their political fortunes.
Despite the screaming, there's nothing particularly unreasonable about releasing incomplete data early -- the Barack Obama administration certainly does, as long as it tells a story it's happy with. And the authors of the report noted this problem, saying they would release a fuller tally in late May.
The real problem is that they offer only one hard number -- 2.45 million paid on the exchange as of April 15 -- and seem to have inexplicably omitted data from two states. Everything else is expressed in percentages, so it's hard to compare any of their numbers with anything else. I can't even make sense of the numbers they do have: 2.45 million is 67 percent of 3.7 million, which is about 1.7 million short of the final enrollment tally for the federal exchanges. That's data the insurers should have had if they were really answering on April 15 -- which means either that the GOP didn't survey all the insurers or that they are including responses that were sent before the final enrollment surge.
The White House is in an interesting bind: It is trying to dispute the numbers while claiming that it doesn't know how many people have paid. It seems quite likely that the White House is right, and that the paid rate is well above 67 percent. But from White House spokesman Jay Carney's response, it also seems quite likely that it has a very good idea of how many people have paid, and thus, that whatever the true value is, it is not the kind of number they're eager to tout.
To contact the author on this story:
Megan McArdle at mmcardle3@bloomberg.net
To contact the editor on this story:
James Gibney at jgibney5@bloomberg.net
Before it's here, it's on the Bloomberg Terminal.
LEARN MORE