Dan Loeb and Sotheby's Are Friends Now
Here is a catalogue of insulting things that Sotheby's CEO called Dan Loeb, of which perhaps the most insulting was "[jerk]."
by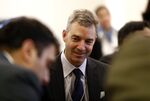 I bet Dan Loeb is really looking forward to his first meeting as a member of the Sotheby's board of directors. Certainly his new colleagues are excited to have him:
"We welcome our newest directors to the Board and look forward to working with them, confident that we share the common goal of delivering the greatest value to Sotheby's clients and shareholders," said Bill Ruprecht, Chairman, President and Chief Executive Officer of Sotheby's.

Here are some other things that Bill Ruprecht has recently said about Loeb:
"We are going to be the target of a proxy fight with activist shareholders. The motivation for that fight is only peripherally about returning capital. It is about being on Sotheby's Board. Mick McGuire needs that as validation, and Loeb wants that for ego." ...

"[W]hen, and if, we cannot defeat a hostile proxy fight, these [jerks] 1 can run the business. I will not supervise the over leveraging of this business which leads to wholesale termination of staff and suffocating debt." ...

In the context of discussing the Company's real estate plans, [Sotheby's board member Robert] Taubman emailed Ruprecht that "this all happened because of Loeb." Ruprecht responded with a single word: "scum." ...

"Loeb wants to control our board. Our staff would hate that. He's a scumbag."
But he meant it in a nice way! And to be fair Loeb ... Loeb also said some weird things: 2
In contemporaneous emails, Loeb described his letter as both part of a "holy jihad" intended to "make sure all the Sotheby's infidels are made aware that there is only one true God," and part of a "Special Operation on Sotheby's," which was intended to "shock and awe" the Company and "undermine the credibility" of Ruprecht.
All of those quotes are from Friday's riveting Delaware Chancery Court decision in Loeb's lawsuit against Sotheby's. The short version: Loeb had been running a proxy fight to get himself and two other nominees on the Sotheby's board of directors. He was hampered in that effort by Sotheby's poison pill, which restricted him from buying more shares. He sued Sotheby's to make it get rid of the pill. On Friday, he lost that lawsuit. On Monday, Sotheby's caved, agreeing to put Loeb's nominees on the board.
So ... that's weird, huh? Loeb lost a battle and then immediately won the war. The obvious explanation is that the poison-pill lawsuit was just a side issue; the main issue is not the poison pill but just who was going to win the vote. In the lawsuit, everyone seemed to agree that the vote was "a coin flip" or a "dead heat." 3 I suppose if you're Sotheby's, a 50/50 chance of losing three directors, and having them replaced by three hopping-mad Loeb appointees, is not that appealing. (The settlement expands the board to avoid throwing anyone out.)
Plus, I mean, the lawsuit could have affected those odds. Discovery brought out a ton of interesting quotes. Not just the ones about Loeb being a "scumbag," I mean. Here are some other things that Sotheby's directors said to each other, which Dan Loeb helpfully collected in a proxy filing last week (emphasis his):
"I see some combination of a flawed governance process, highly flawed internal controls and accountability, carelessness, and extraordinarily bad judgment at work here. Harsh? Yes, but I'm afraid not off the mark….the evidence is strong that [the] company has a serious set of expense and comp issues and that the Board and [sic] is too comfortable, too chummy and not doing its job."

"We spend too much on people, travel, entertainment, client relationships etc…. don't know how spending was allowed to get that far out of control, with no real comments by management…. Again, I think Bill [Ruprecht's] strategy was – revenue and people at whatever the cost. Tough part is, we as a board didn't know that was his approach so didn't have the opportunity to debate it."
Ha, oops. When you've got directors going around saying that they're not doing their job, a coin-flip proxy fight becomes harder for the incumbents to win. After those e-mails, you could see why Sotheby's would want to cut its losses and give Loeb some board seats.
The whole opinion -- or at least, the first 31 pages, with all the facts -- is worth reading. Generally I find that Delaware Chancery Court opinions are the best places to read the stories of hostile M&A battles, but you don't usually find them telling the stories of activist battles. This one does and it is consistently fascinating. 4
Here's the weirdest part of the story: Loeb is barely in it. I mean, that's an exaggeration; he buys shares and takes meetings and exchanges weird e-mails. 5 But the Loeb who matters to this story is mostly a figment of the collective imagination of Sotheby's board and advisers. Ruprecht, the CEO, consistently assumes that Loeb will demand that Sotheby's return capital to shareholders. 6 Sotheby's advisers at Goldman Sachs and Wachtell, Lipton, Rosen & Katz told the board a scary story of hedge fund "wolf packs" and takeover threats. 7
And they tried to preempt Loeb by doing what they assumed he wanted. Ruprecht urged:
Now, I do not have an appetite for significantly leveraging this business, our progress has been hard won, and our ability to operate and invest in deals, and potentially an art fund principal business has never been more exciting.

My review of the situation however is this: if we make a gesture, that we can afford, of a couple of hundred million returned quickly to shareholders, we gain enormous tactical leverage in the process of persuading the 85% of shareholders who were not activists, that we are responsible stewards for their investment.
And Goldman agreed:
During the Finance Committee meeting, Goldman made a presentation recommending a $200-$250 million share repurchase as part of a two-step process to address "recent shareholder feedback." While Goldman noted that one of the "potential consequences of inaction" was that "vocal shareholders" would "[p]ropose a short slate of 2 to 3 alternative directors," it also described some of the "key risks" of engaging in a share buyback as adding "additional leverage to a highly cyclical business," and creating the "[p]otential for Marcato/Third Point to 'claim victory,'" and the "[p]otential loss of operational flexibility in the U.S."
But Loeb never asked for increased leverage or share buybacks! 8 The complaints in Loeb's October letter to Sotheby's, and his April proxy solicitations, and in the meetings and e-mails described in the opinion, are not about share buybacks. They are about strategy. They are about expanding the business for the long term, not about cutting it to hand money back to shareholders now. In October:
Auctions, private and internet sales all need to be reinvigorated or revamped. Sotheby's global footprint must expand, and opportunities to exploit the Sotheby's brand through adjacent businesses should be considered. Sotheby's can also use its unique position and potential excess capital to judiciously take principal positions in works of art when doing so would not conflict with its clients' interests.

In April:
Invest in data technology to record private sale and auction inquiries to promote cross-selling, improve customer service, and increase volume. Once the tools are in place, Company employees must be managed effectively to drive cross-selling to capture a greater share of each customer's relevant spending.

Invest in front-end technology to facilitate online sales, increase customer engagement, and burnish the Sotheby's brand.

Invest in long-term talent development and cultivate numerous points of contact within Sotheby's so that art buyers become clients of the Company, not just the individual salesperson.

Initiate a greater number of curated auctions and exhibitions to leverage Sotheby's client base and relationships.

Use its trusted position as advisor to engage in both auction and private sales to represent artists' estates.

Use its capital more aggressively, sometimes jointly with trusted partners, to secure works for private sale and auction.

More aggressively seek to monetize Sotheby's deep intellectual property in its core markets through more active financing and principal investing.

Develop a robust approach to smaller transactions to compete more effectively with Christie's.

I am obviously not the right person to tell you if these were good ideas for Sotheby's, but they're clearly not slash-the-business-and-give-shareholders-the-cash ideas. 9 The dynamic here was not a board focused on long-term value creation resisting the short-term capital-allocation demands of an activist shareholder. The dynamic was a board focused on its own preservation -- Ruprecht actually says "the single most valuable thing the board can do is stay collaborative and speak with one voice, and control its future" -- taking short-term capital-allocation actions to try to undercut an activist shareholder focused on long-term value creation.
The court was okay with that, and this opinion suggests that Delaware courts will be okay with more or less anything that directors do to keep themselves in power. 10 Corporate boards need this power to resist the threat of activist investors, those rapacious bandits who travel in wolf packs and push companies to ignore long-term value creation in favor of funneling cash to shareholders. That's the story, anyway, whether or not it's true. Here, I'm not sure it was. But I guess the Sotheby's board will find out, in person, soon enough.
To contact the author on this story:
Matthew S Levine at mlevine51@bloomberg.net
To contact the editor on this story:
Toby Harshaw at tharshaw@bloomberg.net
Before it's here, it's on the Bloomberg Terminal.
LEARN MORE