A Bloody Draw in Odessa
The deaths of 46 people, mainly pro-Russian activists, in Odessa marked Ukraine's plunge into chaos in which no one has total control and a diplomatic solution is increasingly hard to come by.
by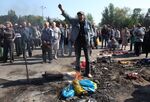 The more than 40 people who died in Odessa on May 2 have given pro-Russian Ukrainians and the propaganda machine in Moscow their martyrs, just as the protesters who brought down the government of President Viktor Yanukovych earlier this year had their "Heavenly Hundred."
Martyrs, however, resolve nothing. The killings mark a further step in Ukraine's transition from a country wrested by its people from the grip of a corrupt dictator to chaos.
Just as the interim government in Kiev stepped up its "anti-terrorist operation" in the country's eastern regions, moving armored vehicles and helicopters against the armed rebels who hold a number of small towns there, peaceful Odessa on the Black Sea was preparing to host a soccer game. The local club, Chernomorets, in fifth place in the Ukrainian league, was to play third-place Metallist from Kharkov. Before the game, both clubs' fans agreed to march in the city center for Ukrainian unity.
The country's nationalistic football fans were one of the driving forces of the winter revolution against Yanukovych. Even in eastern cities such as Kharkov, the fans hate Russia and violently oppose separatism. So when hundreds of local pro-Russian activists attacked the march with sticks, stones, and, by many accounts, guns, the more numerous soccer fans fought back resolutely. They chased the pro-Russians to their tent city near the Odessa labor unions' headquarters and burned down the tents. Their adversaries barricaded themselves in the union building, an imposing, pillared Stalin-era structure, and hurled insults and Molotov cocktails from the upper floors.
Again, shots were fired, apparently from both sides. The soccer fans and local Ukrainian nationalists tossed their share of Molotov cocktails, too. Soon, the building was on fire, and people were suffocating and jumping out of the windows. Some of the Ukrainian nationalists helped some pro-Russians escape the fire, but others beat them as they got down to ground level. The final tally appears to be 46 dead and more than 100 wounded. Many others did not report to hospitals for fear of falling into the hand of nationalists.
This account is necessarily brief and filled with modifiers, because in today's Ukraine, objective information if hard to come by. The best one can do is gather information from opposing sides and try to patch together a coherent picture. Even videos filmed from different angles lead to widely varying conclusions. To those interested in the details, I can recommend two eyewitness accounts: One from a photographer sympathetic to the pro-Ukrainian side and widely quoted by nationalist bloggers, the other from one of the pro-Russian fighters who escaped the burning building, published on the Russian nationalist site Sputnik & Pogrom and quoted by many Russians outraged about the deaths.
In Ukraine, a single truth no longer exists. People believe what they choose from a menu that ranges from "the burning of peaceful protesters for their views," to "a Russian provocation involving the killing of Russian hirelings with poison gas." The official rhetoric from Moscow and Kiev is only marginally less extreme:
The Kiev authorities "are up to their elbows in blood," said President Vladimir Putin's press secretary Dmitri Peskov.

"What we saw in Odessa is a provocation by FSB to distract attention from the anti-terrorist operation," said Sergei Pashinsky, chief of staff for Ukraine's acting president, referring to the Russian counterintelligence service.

That operation to clear out rebel strongholds appeared to fail miserably and whether Moscow controls the rebels is increasingly questionable. Reporters from The New York Times spent some time with a rebel company in the town of Slavyansk and found it staffed by military veterans holding Ukrainian passports, but feeling a strong affinity for Russia. Sergei Zdrilyuk, a man accused by Ukrainian intelligence of playing a key role in the rebellion, is a Ukrainian citizen who speaks the language fluently and denies ties to Moscow.

Police in the eastern regions, and in Odessa during the riots, have appeared reluctant to follow orders from Kiev. The Odessa cops initially aided the pro-Russian rioters, though some of the latter ended up under arrest in the aftermath. On May 4, all 67 detainees were freed by police, who said the regional prosecutor's office had demanded it. The prosecutors denied issuing such orders, but the deed was already done. Kiev promptly appointed an out-of-towner as Odessa's new police chief, but that will not change the fact that the demoralized force is unwilling to fight on either side.
Polls show that only a small minority of Odessa residents would like it to become a Russian city. Even in the more pro-Russian eastern regions, secession and a Russian invasion are not popular ideas. Putin knows that and is not sending in troops, even though the Odessa massacre gives him a plausible pretext to do so. He is not, however, willing to tell the pro-Russian rebels to lay down their arms, either: If he did so, nationalists within Russia would brand him a traitor and the rebels might refuse to stand down. If that happened, Russia would lose leverage in any talks on Ukraine's future.
The game that started with the bloodless takeover of Crimea is now out of hand. People are dying, and both Putin and the Kiev authorities are powerless to stop the bloodshed. The battle lines are drawn indelibly in people's minds. While one of my Kiev friends, a nationalist, went to Odessa to donate medical supplies to the wounded pro-Russians, many Ukrainians chose to say that the victims deserved to die. Sergei Petrenko, who runs the Ukrainian office of Russia's biggest internet company, Yandex, was among them, writing on Facebook: "People died after calling for violence for several months, provoking disturbances and coming out with foreign flags." Petrenko, who opened the Yandex office in Odessa, deleted most of his comments from this thread, but the Russian press circulated screenshots. In the comment thread, another Yandex employee, Oxana Gerasimova from the Moscow office, vehemently opposed Petrenko's stand.
In Odessa on May 2, Chernomorets and Metallist played to a 1:1 draw. In the Ukrainian mess, there can be no winners, either - and probably no diplomatic solution sponsored by any outside parties. Ukrainians will need more time, and probably suffer more pain, before they manage to sort out their allegiances and divisions by themselves.
This column does not necessarily reflect the opinion of Bloomberg View's editorial board or Bloomberg LP, its owners and investors.