Berkshire Weekend, and an Era, End
The world is changing. Even Warren Buffett's beloved Omaha has changed around him.
by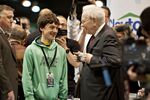 There's an old story about Warren Buffett. It involves nickels.

His grandfather owned a neighborhood grocery store at 50th and Underwood, in the Dundee neighborhood of Omaha. Little Warren, so they say, learned some of his very first lessons about profit at that very spot.
Apparently, he would buy a six-pack of Coke from the store and then resell each bottle individually, earning himself a nickel profit from each pack. Even then, Warren knew how to make a buck: one nickel at a time.
Today, of course, Buffett owns a rather large sip of the entire Coca-Cola Co. No point changing your ways when you know what works.
As a kid, Buffett also delivered papers throughout the neighborhood. Today, he owns 30 daily newspapers throughout the country.
Thank goodness the guy didn't play with toy soldiers growing up. We'd all be saluting a Berkshire flag while wearing Buffett haircuts.
Face it, Buffett's just a grown-up Midwestern kid with Midwestern kid tastes. He plays with trains (BNSF Railway). Likes candy (See's) and gum (Wrigley's). His idea of empire building involves bricks (Acme Brick Co.) and paint (Benjamin Moore & Co.), not zeroes and ones and whatever the heck a bitcoin might be. He sticks to the things every Midwesterner knows at a subatomic level, like ketchup and soft-serve ice cream. Oh, and insurance. He's no dummy. He knows a good racket when he sees one.
But the world is changing. Even Buffett's beloved Omaha has changed around him.
Buffett still lives in that Dundee neighborhood, not far from his grandfather's grocery store. The building still stands. The store, long gone. Inside is a sleek, modern bank. There's a flat-screen TV on the wall and minimalistic furniture in the seating area.
Nearby, in the corner, the original grocery store safe is on display. A relic of another time.
I'm sitting at a small, square table inside another soon-to-be Omaha memory. Sipping on a Manhattan. Waiting for my New York strip. It's the last night of service for Eli Caniglia's Venice Inn.
Buffett's the big star on Berkshire weekend, obviously. But coming in at number two, one could argue, is steak.
Two of Buffett's favorite steakhouses are listed in the annual meeting visitor's guide. In fact, they're the only two restaurants listed at all. We're talking old-school Italian steakhouses here. There's Gorat's, which has been around since 1944. And Piccolo Pete's, which is a full decade older. Their neon signs are so old they're cool again.
Shareholders from out of town eat this up, of course. After all, Omaha and steaks. It's such a classic combination one company put those two words in their name. I think they've done pretty well.
I'm at one of Omaha's newer Italian steakhouses, though. It opened in 1957. There was a time when the Caniglia name was on steakhouses and pizza joints all over Omaha. Eli Caniglia's Venice Inn is the last to bear the family name. Tonight, when the gigantic neon sign out front gets switched off, an era ends with it.
Making way for new development.
My steak comes. Perfectly seared and seasoned. One of the best steaks I've ever had, honestly. The dining room and lounge are both packed. The Caniglias postponed the closing to take advantage of one last Berkshire Hathaway shareholders meeting. Good for them.
And good for Omaha on the new development.
New development has transformed Omaha from a sleepy Midwestern city to a stirring neutral-dialect giant on the Missouri River. There's a vibrant downtown scene full of new restaurants and hotels. A shiny new ballpark. A perpetually jam-packed new arena to host their new Big East conference basketball team. There's a rising music scene. Plus an upstart startup community.
This is a new Omaha.
Perhaps nobody epitomizes this better than Isa Chandra Moskowitz. The 41-year-old Omaha resident (by way of Portland and New York) has published almost as many cookbooks as she has tattoos. Her Post Punk Kitchen empire includes eight cookbooks, a slick website and plans for an Omaha restaurant.
Oh, and she's one of the country's most famous vegan chefs.
A vegan chef in the middle of Steak City USA?
Perhaps there will come a day when Moskowitz's restaurant is listed in the official Berkshire visitor's guide. Buffett is 83 years old, after all. Charlie Munger is 90. Time marches on. Things change.
Perhaps the next person to run Berkshire will have grown up somewhere else and developed radically different tastes.
How will this change the company's investments or day-to-day activities? How will it change these revered Berkshire weekends in Omaha?
And should I order a cannoli to go? These are the things I ponder as I look out at the giant Venice Inn sign on Pacific Street.
Man, it's a cool old sign.
This column does not necessarily reflect the opinion of Bloomberg View's editorial board or Bloomberg LP, its owners and investors.