What Mattered This Week?
The war we're fighting still matters.
by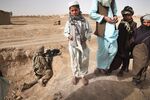 I continue to believe that the casualties in Afghanistan are massively under-covered in the media, so I'll highlight April's numbers. A promising March carried over into April. There were nine coalition troop deaths (four U.S.), down from 16 (13 U.S.) in 2013. The year-to-date numbers are 29 coalition troop deaths, down from 41 at this time last year, and 18 U.S. troop deaths, down from 32.