view
Buffett's Selling, While Supplies Last.
Everywhere you look at Berkshire Hathaway's annual shareholders meeting, there's Warren Buffett's face or signature or a nugget of wisdom in the form of a Buffett quote. On T-shirts. On board games. Even on diamonds.
by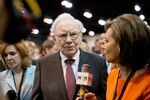 Every oracle has a temple.

Today, for the Berkshire Hathaway faithful, that temple is the CenturyLink Center in downtown Omaha, Nebraska. Oracle Warren Buffett presiding.
And every temple, it seems, has its money-changing booths. A place where the pilgrims, some of whom have traveled thousands of miles, can exchange their money for offerings of thanksgiving. Where cash can be traded for tokens of worship.
Like limited-edition Berkshire Hathaway boxer shorts, for example. I can't think of a better way to profess your love for one of the world's largest public companies than by displaying the two founders all over your privates. In money green, no less. Only $6 at the Fruit of the Loom booth, while supplies last.
And if the winding checkout line is any clue, they won't.
Or perhaps you'd prefer the exclusive Warren and Charlie Fiesta Ducks. That's a pair of yellow rubber duckies decked out in sombreros, ponchos and matching glasses. You can tell which one is the Buffett duck because he's holding a maraca. Only $5 a pair at Oriental Trading's booth, while supplies last.
Amazingly, those seem to be selling briskly as well.
Oh, wait, I just got it. It's a Cinco de Mayo thing, right? But, um, today's the 3rd. OK, I'm obviously overthinking this. Moving on.
Here in the convention center exhibit hall, just outside the arena where the actual shareholders meeting is taking place, you'll find more than 40 exhibitors. A maze of booths set up for this one special Saturday. In those booths, you'll find smiling corporate representatives from companies ranging from Acme Brick to World Book.
If you've ever been to a trade show or visited the exhibition hall at a state fair (or if you're an agoraphobe and you've ever had a nightmare), you'll have a pretty good sense of what it's like to be here today. There are all the eye-catching graphics and video walls and random weirdness you'd expect when you're trying to attract the attention of thousands of passersby.
Former Atlanta Brave and 1996 Cy Young winner John Smoltz was in one booth, signing Berkshire Hathaway baseballs. While supplies last, the sign says.
The only thing that connects these 40-odd companies, of course, is that they are owned in whole or in part by one of the world's largest companies. The result being, well, odd. You have carpeting next to candy. Dress shirts across from sodas. Poultry processing systems across from chocolates. Flat-rolled steel next to western belts across from Thomas Kinkade paintings.
There's a full-size Clayton Home. A working model train village. A 15-foot-tall inflatable gecko. Plus, weighing in at 7,003 pounds, the world's largest lollypop.
The whole spectacle is kind of like a boat show, except instead of actual boats, there's a booth promoting boat insurance (BoatU.S.). Wait, that sounds awful.
It's like a much smaller version of San Diego's Comic-Con, except the only people in costume are the Fruit of the Loom guys and two Acme Bricks. And, well, it's a safe bet all of these attendees have actually showered today.
I do admit: I half expected to see some Buffett cosplay.
Instead, I found a booth promoting an animated series in which Buffett teaches little kids about "the business of life." I bet Carlos Slim doesn't have one of those.
Everywhere you look, there's Buffett's face or signature or a nugget of wisdom in the form of a Buffett quote. On T-shirts. On board games. Even on diamonds.
Yep, diamonds.
In honor of Berkshire weekend, Borsheim's -- a local megajeweler Berkshire owns -- is selling loose diamonds with Buffett's signature laser-inscribed onto them. They range from 3/4 carat to 5 carats, in round and square cuts, and are priced from $5,000 to more than $200,000. At the Borsheim's booth today, they're selling an exclusive ½-carat inscribed pendant. Only $1,750, while supplies last.
Good grief, even these will sell out. Why in the world you'd ever want a diamond with Warren Buffett's signature inscribed onto it is beyond me.
Then again, some people get Harley-Davidson tattoos. And I knew a guy who got buried in a University of Michigan casket.
There's only one way to explain it, really. Cults have never had a great sense of taste.
Speaking of which, special Berkshire-edition running shoes are available for only $140 at the Brooks booth. While supplies last, obviously.
To contact the author on this story:
Tim Siedell
To contact the editor on this story:
Timothy L O'Brien at tobrien46@bloomberg.net
Before it's here, it's on the Bloomberg Terminal.
LEARN MORE