Warren Buffett and the Happiest Place on Earth
An inside look at Berkshire Hathaway's annual meeting in Omaha and the happy legacy of Warren Buffett.
by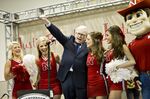 The future leaders of the world have Skull and Bones. Industrial titans have the Bohemian Grove. The Illuminati have their Tuesday night book club at Jay-Z and Beyonce's.
The communists have May Day, of course. (Emphasis on "day.")
But for three days over the first weekend in May, capitalists have Omaha. Courtesy of Warren Buffett.
Even now, they come. Some 35,000 strong from all over the globe, all with overflowing retirement accounts and laminated cards dangling from the black lanyards around their necks. Destination: this weekend's Berkshire Hathaway Inc.'s annual shareholders meeting. The biggest, weirdest, happiest, nouveau-richest, least-stockholder-meetingest stockholders meeting in the free world.
That's right, happiest. Sorry, Disneyland.
You may know Omaha as being somewhere between Wall Street and Silicon Valley, and you're right. But let's narrow it down a bit so you can get a better sense of place. Think of it this way: If you were to survive a plane crash exactly halfway to your destination, there's a good chance you'd end up in an Omaha hospital.
And months later, after you continue to recover (sorry, your hypothetical injuries were far worse than we initially hypothetically thought), you might think you've been eating from a feeding tube in a rather special place.
One of the top places to raise a family, according to Forbes. The top value city, according to Kiplinger (OK, in 2011). One of the 10 most secure places to live, according to Farmers Insurance Group. One of the fittest cities, according to Men's Fitness. Plus, one of the top cities in America for providing homegrown freelance writers with top-10 lists.
That's right, I'm a lifelong Nebraskan. Just like Buffett. And I'm here to tell you Nebraska isn't the sparse, depressing place you think it is. You're thinking of that Bruce Springsteen album. Or Iowa.
Omaha is a boomtown. The greater Omaha area, which will soon surpass 1 million people, now boasts one of America's top neighborhoods (Dundee, according to the American Planning Association), as well as one of the top places to live (Papillion, according to CNN Money). Not to mention arguably more Fortune 500 companies, billionaires and millionaires per capita than wherever you are this very minute. That includes you, New Yorkers.
Maybe Buffett is smart about stuff beyond the stock market. He's been calling the Dundee neighborhood home for most of his life.
Which, by the way, is also why you'll find so many millionaires in and around Omaha -- not just packed into the gleaming, world-class CenturyLink Center on Saturday, but from Elkhorn to the Missouri River all year long. Pretty much all of us who have lived in Nebraska for some length of time know at least one Berkshire millionaire. Normal folks who, long ago, heard from a friend of a friend about a guy named Buffett who was looking for investors. Some of these people never invested before. Some haven't invested in anything since. Like their now-beloved leader, many literally bought into the concept of buying and holding.
No wonder people in Nebraska are notoriously nice and friendly. If you bought and held your Berkshire shares, a $20,000 investment back in 1969 would be worth more than $75 million today, according to theOmaha World-Herald.
My father-in-law heard about this Buffett fellow back in the '80s and, having some cash on hand, thought long and hard about investing. Instead, he bought a sailboat. As you can imagine, he and I don't talk very much.
But that's part of the appeal of Berkshire weekend in Omaha, really. Lots and lots of normal folks. People who never bothered to quit their day jobs at Union Pacific Corp. or Mutual of Omaha Insurance Co. or the neighborhood bakery despite having the good fortune of having amassed a great fortune. All mixed together with an odd assortment of the megarich and curious from all over the world, attracted in part to the novelty of hanging out in the middle of the middle of nowhere.
Go ahead and call the Oracle of Omaha the Sultan of Square, if you want. From his love of Dairy Queen Blizzards and Coca-Cola to his fascination with Fruit of the Loom underwear and ketchup, this guy doesn't ooze hip. Nor do his investment strategies or, for that matter, his website (hello, 1994). Even when he's hanging with his pal Bono, or writing a huge check to help defeat some disease somewhere, there's no way Buffett will ever shake the Omaha that helped shaped him. It's who he is.
And who cares if Omaha's skyline isn't very flashy (yet) or if you won't find quite as much ironic facial hair around the Old Market as you would in Williamsburg? And, yes, Warren's favorite burger place (Bronco's) is way more retro than retro-cool for you foodies visiting Omaha this weekend. And, well, there's nothing even remotely flashy about the idea of Warren and Berkshire board member Bill Gates throwing down for an epic game of bridge Saturday night.
Sure, other executives at other companies have made other people rich. Maybe even richer.
But maybe, as these Berkshire weekends often prove, no company has ever made more people so happy.
This column does not necessarily reflect the opinion of Bloomberg View's editorial board or Bloomberg LP, its owners and investors.