view
Tax Is the New Black for Foreign Takeovers
Pfizer has hit the zeitgeist by making tax the focus of its appeal to the U.K. government over its attempt to by AstraZeneca.
by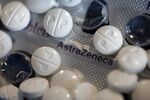 U.S. pharmaceuticals company Pfizer has augmented its attempt to buy AstraZeneca, the U.K.'s second-biggest drug maker, with a letter to Prime Minister David Cameron. The missive, as well as reminding us that meddling politicians still view takeovers as being within their purview, is illustrative of the current backdrop to the world of global business.
Pfizer's top pitch for getting Cameron's support for the bid isn't a pledge to preserve the AstraZeneca workforce, or a guarantee that it will maintain spending on research and development. Instead, its most important promise is about the country to which it will pay tax:
"Pfizer Sends Letter to Rt Hon David Cameron MP Regarding Commitments If Proposed Combination with AstraZeneca is Completed," Pfizer says on its website. First bullet point: "Establishing the combined company's corporate and tax residence in England."
A line item in Pfizer's accounts on the Bloomberg terminal says that its "income tax expense" in the past 12 months was more than $4.3 billion:

The same line item for AstraZeneca says it had income tax expenses of $536 million in the past year. So in effect, the New York-based company is saying to British politicians that if they let the planned takeover proceed, billions of additional pounds will make their way into the U.K. Treasury's coffers every year.
The appeal seems to be working. Michael Heseltine, an economic adviser to Cameron and former stalwart of Margaret Thatcher's administration, said this week that the government should have powers to intervene against such a bid, and David Sainsbury, who was science minister under Tony Blair, called on Cameron to block the deal. Yet Universities and Science Minister David Willetts said today that the letter shows Pfizer has "moved a long way" since the takeover was initially proposed. The deal is "ultimately a decision for AstraZeneca shareholders," he told BBC Radio 4's "Today" show.
While Pfizer does go on to make commitments about R&D and jobs, the company has hit the current zeitgeist by making its tax base the first order of business in its appeal to Cameron.
At a time when governments are struggling to bring down budget deficits and pay off the mounds of debt they accumulated during the financial crisis, how and where multinational corporations pay tax was always going to become an issue. Hence the uproar over companies that book profits in faraway countrieswith more lenient fiscal regimes, and about U.S. companies that use overseas cash to fund foreign takeovers rather than bring it home and forfeit a third in taxes.

Pfizer Chief Executive Officer Ian Read has boxed cleverly with his "Dear Dave" letter, recognizing that in this environment tax can also be the key to winning the right to snap up jealously guarded "national champions" in foreign countries. Perhaps he can teach a lesson to General Electric's Jeffrey Immelt, as he tries to buy Alstom in France.

To contact the author on this story:
Mark Gilbert at magilbert@bloomberg.net
To contact the editor on this story:
Marc Champion at mchampion7@bloomberg.net
Before it's here, it's on the Bloomberg Terminal.
LEARN MORE