Racism Isn't Discrimination
Donald Sterling's case exposes a danger that we will punish people for having a prejudiced heart even in the absence of objectionable actions. 
by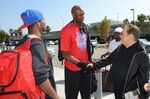 Kareem Abdul-Jabbar, among others, is asking why it took racist comments in a private conversation to bring the National Basketball Association down on Los Angeles Clippers owner Donald Sterling when evidence that he was a racist has been accumulating for years.

The question takes on a sharper edge when you consider that Sterling ran afoul of the NBA for exhibiting racist attitudes, which is considerably less offensive than his past behavior of actually discriminating against minorities. The answer to the question has ramifications for bigots of all kinds, which includes an awful lot of us.
As has now been well-recited, two decades into his ownership of the Clippers, Sterling, who is also a landlord, was repeatedly sued for housing discrimination. When he was accused of forcing blacks and Latinos out of his apartment buildings in 2003, one of his property supervisors testified that Sterling said blacks "smell" and that he wanted to get them and Latinos "out of here." Sterling settled the case for an undisclosed amount. When the U.S. Justice Department sued him in 2006 for discriminating against blacks, Hispanics and families with children, he settled for a record $2.7 million.
I'm not going to count against Sterling the suit for race and age discrimination filed by Clippers former General Manager Elgin Baylor because Baylor withdrew the race allegation and lost the case after a full adjudication in court.
But the housing cases alone paint a pretty clear picture of Sterling. Evidence was presented that his aim was to run people out of their homes and to refuse them housing based on their race. In the most recent episode, however, Sterling was caught being a racist but not discriminating against anyone, except perhaps his mixed-race girlfriend, V. Stiviano, whom, in a recorded conversation, he asked to stop associating publicly with black people.
So why did the fans, the players and the NBA ignore Sterling's transgressions against actual victims in the past but not a lesser sin of the heart more recently? A few commentators suggest it's because the housing discrimination was against poor, uninfluential people, whereas in his recorded comments Sterling offended rich, powerful NBA players. That may have something to do with it, but I suspect that if the housing case had featured recordings of Sterling saying black people smell bad, the uproar would have been the same back then, with or without the evidence that he actually denied minorities housing.
The testimony of others is one thing, but there is nothing more compelling than self-incrimination. That's why Sterling's taped conversation with Stiviano should serve as a warning to anyone in the public eye that privacy has become a quaint concept. It remains unclear how and why the recording was made and how it got to the TMZ.com celebrity gossip website. But such revelations surely will become more common in an age in which most Americans carry a smartphone and half own a tablet; when online accounts are readily hacked and e-mails are easily forwarded; when governments promiscuously tap into our electronic communications; and when millions of security cameras capture our ill-considered actions.
The upside of this, one hopes, is that more bad guys like Sterling will be exposed. Sterling belongs in that camp not for what he said on the tape per se but because what he said validated the testimony in the housing cases. Sterling had denied wrongdoing in those cases, and because they were settled, he was never determined to be at fault.
This column does not necessarily reflect the opinion of Bloomberg View's editorial board or Bloomberg LP, its owners and investors.