Portuguese Train Company Was Run Over by a Snowball
It's a snowball, but it's also a biscuit. It's also an interest-rate derivative. It's also horrible.
by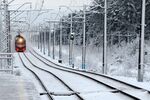 One service that I like to provide is pointing my readers to ridiculous derivatives trades, and oh boy doesRisk magazinehave a great one. 1 The story is that "Portuguese state-backed rail operator Metro do Porto (MdP)" had some floating-rate debt outstanding that it had swapped to fixed at 4.76 percent. In 2005, government auditors "urged it to find a way of reducing" that rate. One option was I guess to swap it back to floating but that was obviously dumb, so MdP decided to do something obscurely and wonderfully dumb instead.
In 2007, it entered into a lunatic swap with Santander, in which Santander agreed to pay it 3 percent a year, and MdP agreed to pay Santander back a calculated "spread" for 14 years (the time left on the debt). 2 The spread was zero for the first two years, so MdP succeeded in reducing its interest payments by 3 percentage points a year. After the first two years, the spread each quarter would be:
the previous quarter's spread, plus

"two times the difference between three-month Euribor and 2 percent for every quarter the rate is below that level, or two times the difference between three-month Euribor and 6 percent for every quarter the rate is above it," or minus

0.50 percent, if Euribor was between 2 and 6 percent (but never bringing the spread below zero).

This worked great for a while -- Euribor was between 2 and 6 percent, so the spread stayed at zero and Santander kept paying MdP 3 percent. And then it stopped working: On the March 2009 reference date, Euribor was 1.66 percent, so the spread was 0.68 percent (2 x [2% - 1.66%]). Then it snowballed:
But the formula also dictates the spread payable for that quarter be added to the spread for the previous quarter, giving it a compounding effect. In March 2009, the spread of the previous coupon period was then 0%. But, by June of the same year, with Euribor standing at 1.28%, MdP's coupon became 1.44% + 0.68% from the previous quarter, or a cumulative 2.12%. On September 11, 2009, with Euribor at 0.77%, it became 2.46% + 2.12%, or a cumulative 4.58%.

For every quarter that Euribor is below 2%, the cumulative coupon increases by a corresponding amount. If Euribor remains stuck at around 0.5%, MdP will begin paying Santander a coupon in excess of 100% at some point in late 2017 or early 2018. As of press time, the rate stands at 0.35%.
So the current interest rate on the swap is 40.6 percent. Oops! One academic tells Risk:
It's nonsensical. I've seen some badly structured products sold to clients in my time, but this one takes the biscuit.

It does indeed take some sort of delicious biscuit. Someone else calls it "a contender for the worst trade of all time."
Go read Risk for more about the story, about the lawsuit -- did I mention there's a lawsuit? Of course there's a lawsuit -- and about the MdP finance staff who decided this was a good idea. One of them is "now a lecturer in finance" and the other is "a professor of finance," so be careful out there, kids.
This trade is magic, but its broad outline is recognizable. The customer wants to pay a lower interest rate than it's currently paying. (Who wouldn't?) The bank is happy to make its interest expense lower now, in exchange for making it higher later on. 3 (The bank is obviously not going to make it lower now and also lower later on, that is dumb.) The customer isn't so sure about that: Paying less now and paying more later doesn't seem like that great a deal.
So the bank offers an even better deal: Pay less now, and maybe pay more later. Obviously, maybe paying more later is worth less than definitely paying more later, so you'll have to pay more more later. There's a series of dials to turn: The more money you save now, the longer you save for, and the less likely you are to pay more later, the bigger the amount of money you'll end up owing if the trade moves against you. 4 The bank knows exactly how those dials work, and the math is no doubt hard, but anyone can figure out the gist: The lower the probability that you have to write the bank a check, the bigger that check has to be.
Here one assumes that Santander showed MdP a chart like this:

That's 3-month Euribor for the whole history of the euro up to the time they put this trade on. 5 Euribor never went above 6 percent, and only barely and momentarily went below 2 percent. This bet was incredibly safe! Santander was paying MdP 3 percent a year for insurance against something that had essentially never happened. Good trade, MdP!
Except then it happened a whole lot. Here is the subsequent history of Euribor:

The key point to recognize is that insurance against that drop in Euribor was ex ante not that valuable: It really had never happened. So "we'll pay you 3 percent a year, and you'll pay us the amount by which Euribor is less than 2 percent" was, for Santander, a dumb trade. But "we'll pay you 3 percent, and you'll pay us, like, 30 times the amount by which Euribor is less than 2 percent" is much more profitable. 6
But this still doesn't quite satisfy the customer, because "you pay us 30 times the difference between Euribor and 2 percent" is an obviously risky leveraged trade and no conservative state-backed rail operator can get away with placing a crazy bet like that. So instead you say "you pay us 2 times the difference between Euribor and 2 percent, but over and over again." The snowball feature is a way to add enormous leverage to the trade, 7 but in a way that is just sneaky enough that the customer ... can bamboozle its supervisors? 8 Is bamboozled itself? I suppose a court will decide. The point is, someone's getting bamboozled.
All these swaps-gone-wrong cases revolve around exactly who was being bamboozled. MdP's finance executives couldn't have thought that Santander was paying them three percent a year for nothing. They knew they were taking a risk with the taxpayers' money they were managing. The question is, did they want to take that risk in a ludicrously complicated and leveraged way so they could look like heroes for saving money while hiding the risk? Or did they take the risk in a ludicrously complicated and leveraged way because the bank tricked them into taking more risk than they wanted? Did the bank outwit the customer, or did the customer outwit itself?
To contact the author on this story:
Matthew S Levine at mlevine51@bloomberg.net
To contact the editor on this story:
Toby Harshaw at tharshaw@bloomberg.net
Before it's here, it's on the Bloomberg Terminal.
LEARN MORE