McConnell's Nuclear Blunder Haunts Republicans
Republicans lost all leverage on judges.
by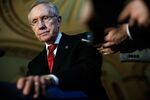 This was a huge week for judicial nominations in the Senate. Nine judges were confirmed, including one at the appeals level. We also got confirmation that Republicans committed a terrible blunder last fall by forcing Senate Majority Leader Harry Reid and the Democrats to invoke the so-called nuclear option, which makes judicial nominations subject to a simple majority vote.