Friday Baseball Blogging: Using the Best Pitchers
Why don't the best pitchers pitch the most?
by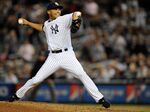 Jonah Keri has an excellent piece up at Grantland with the standard stathead case on closers: Managers are using them wrong. He looks at road games that are tied in the ninth inning. In those situations, managers have turned to their closers only 19 out of 307 times. This makes no sense. Managers are saving their closers for high-leverage situations which may or may not occur instead of using them in the ones they're already facing.
I agree with the stathead conventional wisdom in this case. In the piece, Keri discusses one of the main reasons that managers stick to what they've done since the 1990s or so -- they prefer fixed roles for relief pitchers. While we have no way of measuring it, I think it's highly unlikely the "fixed roles" excuse -- that relief pitchers perform better when they know when they'll be used -- holds water.
I've been getting annoyed with Giants manager Bruce Bochy this season because he usually won't use his best relievers when the team is down one or two runs in the late innings of a game. This practice is also -- along with not using the closer for more than three outs -- part of the code between managers and relief pitchers.
The only caveat I have about all of this is that the real benefit from fixed roles -- however arbitrary or nonsensical -- may be that it keeps relievers sharp and healthy for longer.
It is mostly true that games per season are down at the very top end of the scale. Seven of the nine 90-game seasons by pitchers occurred between 1969 and 1987; only Salomon Torres in 2006 and Pedro Feliciano in 2010 have done it since. And for whatever it's worth, Torres lasted just two more seasons, and Feliciano has appeared in only 25 games since 2010. There are another 27 instances of pitchers appearing in between 85 and 89 games though, which suggests teams are trying to cap the number at 90. Moreover, while there are plenty of recent pitchers in that 85 to 89 games group, almost none of them are closers -- quite a few are left-handed specialists. Or, to put it another way, in 1983 most of the games-pitched leaders were closers; in 2013 they weren't.
What I think managers are doing with these arbitrary pitching roles is finding an easy way to cap usage in order to prolong careers. Granted, it's a method that's easy to explain to the average news media and fans. But nevertheless, it's possible that it's working.
So that leaves me with a question: Is it working? Do the best relief pitchers now last longer than relief pitchers in the 1970s and 1980s? I sort of think so, but I don't know whether anyone has studied it. Let me know if someone has.
This column does not necessarily reflect the opinion of Bloomberg View's editorial board or Bloomberg LP, its owners and investors.