Even a Money-Losing Pizza Chain Can Do an IPO
Would you buy stock in a pizza chain that can't make money after 33 years?
by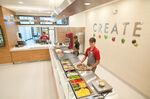 Just when it seemed like investors might have lost some of their appetite for initial public offerings of companies that lose money . . . yeah, right.