Carmakers' Summer Plans: Back to Bankruptcy?
Be prepared, taxpayers, the worrying news on your two carmaker "investments" seems to be just getting started.
by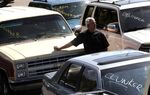 With General Motors' non-recall scandal raising fresh questions about the kind of company taxpayers rescued five years ago, and its lawyers back in front of a bankruptcy courtthis week to fend off class-action suits, Detroit is finding out just how difficult it can be to escape the stain of bailout. Another reminder was this week's report from the Troubled Asset Relief Program special inspector general, indicating the losses on GM and Chryslers' bailouts ($11.2 billion and $2.9 billion respectively) were higher than previous Treasury Department accountings. Be prepared, taxpayers, the worrying news on your two carmaker "investments" seems to be just getting started.
America's auto market remains a precarious contradiction: loan terms are longer than ever and subprime penetration is approaching pre-recession levels, yet transaction prices are up. Gas prices, which usually spike in the summer, are heading toward 2008 levels again -- yet trucks have been outselling cars for months.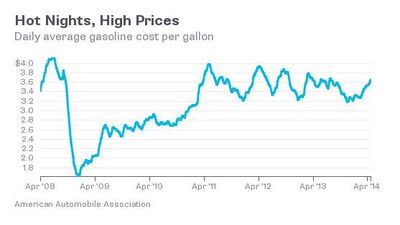 Even sales volume itself has to be questioned as inventory to sales ratios indicate that the automakers' real customers, new car dealers, are choking on supply that factories count as sales. And you don't have to guess which automakers have the most exposure on these issues.
First in line for problems in the event of a gas price spike is Chrysler, which has watched its market share for passenger cars slip from 4.3 percent to 3.4 percent so far this year. Despite the promise of rejuvenation through the miracle of fuel-efficient Italian technology from its new owner Fiat, Chrysler remains utterly dependent on its Ram and Jeep pickups and SUVs for profits. If gas prices spike for long, it won't be able to build enough fuel-efficient "EcoDiesel" versions to prop up its still-struggling Chrysler, Dodge and Fiat car brands. And with U.S. petroleum exports up 25 percent, there's little hope that the domestic production bonanza will lead to a meaningful drop in pump prices.
GM is already facing the harsh reality of its truck dependence, as its crucial new pickup and SUV line has faced numerous recalls, lost market share, and been called "the least successful large pickup launch over the last 15 years" by one analyst. With Dodge and Ford already eating GM's lunch, and inventories for Silverado and Sierra dangerously high (around 100 selling days), any downturn in truck and SUV demand will devastate the company and its dealers.

Possibly in recognition of this scenario, GM included an ominous new risk factor statement in its latest SEC filing:
The automotive industry, particularly in the U.S., is very competitive with market participants including new participants routinely introducing new and improved vehicle models designed to meet consumer expectations, and in the past our competitors have been very successful in persuading customers that previously purchased our products to purchase their vehicles instead. Producing new and improved vehicle models on a basis competitive with the models introduced by our competitors and preserving our reputation for designing, building and selling safe and high quality cars that meet customer preferences is critical to our long-term profitability. We will launch a substantial number of new vehicles in 2014. A successful launch of our new vehicles is critical to our short-term profitability.
The warning is echoed in the accompanying financials, which showed GM's automotive revenue declining even before recall-related charge-offs. The key contributor to GM's revenue increase last quarter was GM Financial, which holds some $30 billion in receivables owed by consumers -- 89 percent of which are subprime! -- and GM dealers, more than two thirds of which have "marginal to weak financial metrics" or worse. Delinquent receivables rose to over a billion dollars, and GM wrote off nearly a quarter billion in bad loans in Q1 alone. And though S&P's research indicated in February that "the best is behind us" in the subprime auto sector, and GM itself claims to have "hit the brakes" on the practice, GM continues to increase in-house subprime lending to keep the metal moving.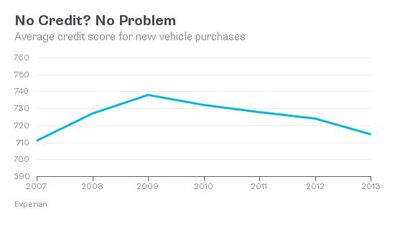 Despite their government-led restructuring, GM and Chrysler have found themselves back in the same old Detroit scenario: lots bloated with the pickups and SUVs that carry their bottom line, resorting to margin-erasing incentives and risky subprime loans to woo consumers, one credit crunch or gas price spike away from oblivion. Even without the prospect of more Senate hearings on GM's decade-late recall and troubled relationship with NHTSA's defect investigators, the Government Motors projects can't seem to escape their pasts. And as GM admitted to the SEC, they desperately need to in order to survive.
This column does not necessarily reflect the opinion of Bloomberg View's editorial board or Bloomberg LP, its owners and investors.