A Case of Piketty Fever at the OECD
The OECD has issued a report using Thomas Piketty's inequality data and recommending harsher taxation for the wealthy. It ought to collect more information on the poor's income structure before jumping to conclusions.
by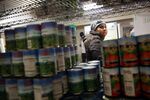 The French economist Thomas Piketty has become something of a rock star with his recent book on inequality, and now the Organization of Economic Cooperation and Development has embraced his data and ideas in a freshly issued report. The think tank of developed economies makes tax policy recommendations based on Piketty's analysis, despite a major flaw: His failure to account for social transfers as a source of income.