Who's Checking Your Passport? Hardly Anyone
The investigation into missing flight MH 370 have moved on to focus on different causes. But at Interpol concern over stolen passports remains high.
by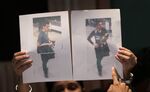 The first promising lead in the search for Malaysian Airlines Flight 370 was the discovery that two passengers had boarded the plane using stolen passports that were among the more than 40 million recorded in Interpol's Stolen and Lost Travel Documents database. The database has existed since 2002, and all Interpol member countries have the option to check passports against it. Yet like most of Interpol's members, Malaysia doesn't bother, so time was wasted looking into two people who weren't terrorists, and probably wouldn't have been allowed to board the plane at all if their passports had been cross-checked to begin with.
The investigations (Malaysia released Thursday previously withheld documents related to the disappearance) and the public's short attention span, have moved on. But at Interpol concern over stolen passports remains high. Last week, Interpol Secretary General Ronald Noble, speaking to the United Nations' Counter-Terrorism Committee and Counter-Terrorism Executive Directorate in New York said that travel-document security will be "fundamental to avoiding the collapse of global security over the next decade."
What's the threat? If MH 370 didn't make it clear enough, Noble offered this: "History and past bloodshed have taught us that transnational terrorists will cross borders time and again to complete their distorted mission." He cited Ramzi Yousef, who came to the U.S. on a stolen passport and proceeded to mastermind the 1993 World Trade Center bombing. On its website, Interpol has posted several cases where the database aided law enforcement in identifying criminals traveling on stolen passports; presumably there are others that the agency hasn't made public.
Despite the obvious hazards associated with more than 40 million stolen or lost travel documents, Noble noted that in 2013 one-third of the world's 1.2 billion international air passengers were able to board planes without being screened against the SLTD database. Indeed, of Interpol's 190 member countries, Nobel noted that fewer than 10 systematically screen against the SLTD database. Of those, the U.S., the U.K., and the United Arab Emirates account for more than half of the searches. Simple math suggests that even close U.S. allies (including "nearly all EU members," said Noble in 2011) are failing to screen passengers for stolen or lost travel documents. For example, last year Australia accessed the SLTD just 335 times, according to the Sydney Morning Herald, accounting for .001 percent all the country's international arrivals. By contrast, Singapore accessed the database 29 million times. Why the lack of oversight in Australia? The Sydney Morning Herald cites "the cost of upgrading computer systems."
What will it take -- other than money -- to get more passports screened worldwide? Recently Interpol began making its SLTD database available to individual airlines on a test basis, bypassing whatever political and financial obstacles might be preventing the adoption of screening by individual countries. In March, the agency announced that Qatar Airways and Air Arabia would be the first two airlines to join the program. Last week, Noble declared that a "major airline in Malaysia," would begin to check passports against the SLTD database within the next four to six weeks. (Noble expressed hope that Malaysia's government would soon "do the same.") There are seemingly two possibilities for which airline it could be: AirAsia or Malaysian Air. Presumably, it's the latter, suggesting that potential tragedy has influenced at least one company's decisions.
That's progress, and it should be commended. Nonetheless, it's modest progress, and it raises the question of how Interpol and other interested parties should go about further encouraging the adoption of passport screening by other airlines and countries? One answer, proposed by Republican Senator Mark Kirk of Illinois, is to require that the U.S. State Department publish a list of airports worldwide that don't screen passports against the SLTD. At least currently, that would be a pretty extensive list. And its value would probably rest solely in its ability to shame countries -- like Australia -- that need to do better. Barring real, and perhaps inevitable, tragedy, that's probably the best that Interpol can hope for.
This column does not necessarily reflect the opinion of Bloomberg View's editorial board or Bloomberg LP, its owners and investors.
To contact the author on this story:
Adam Minter at aminter@bloomberg.net
To contact the editor on this story:
Zara Kessler at zkessler@bloomberg.net
Before it's here, it's on the Bloomberg Terminal.
LEARN MORE