Who's Checking Your Passport? Hardly Anyone
The investigation into missing flight MH 370 have moved on to focus on different causes. But at Interpol concern over stolen passports remains high.
by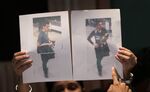 The first promising lead in the search for Malaysian Airlines Flight 370 was the discovery that two passengers had boarded the plane using stolen passports that were among the more than 40 million recorded in Interpol's Stolen and Lost Travel Documents database. The database has existed since 2002, and all Interpol member countries have the option to check passports against it. Yet like most of Interpol's members, Malaysia doesn't bother, so time was wasted looking into two people who weren't terrorists, and probably wouldn't have been allowed to board the plane at all if their passports had been cross-checked to begin with.