NYSE Fined for Rigging Markets Four Years Ago
One of the most amusing functions of the Securities and Exchange Commission is to keep track of the various stock exchanges' dumb screw-ups and periodically send them a bill.
by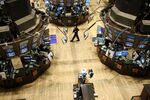 One of the most amusing functions of the Securities and Exchange Commission is to keep track of the various stock exchanges' dumb screw-ups and periodically send them a bill. 1 The New York Stock Exchange's bill came due today. It is $4.5 million, and it is a delight:
On January 11, 2010, a trading systems testing error occurred at Arca that caused ArcaSec to acquire erroneous long and short positions in twelve securities with a total value in excess of $4 billion, composed of approximately $2 billion in long positions and $2 billion in short positions on both sides of the twelve securities. As a result, ArcaSec held net long positions of approximately $232 million in three securities and net short positions of approximately $271 million in nine other securities. On that day, an Arca information technology employee, in the course of conducting a system test, mistakenly connected an automated testing tool to Arca's live trading environment, rather than to a testing environment where the testing was to have been performed. Over the course of approximately fifteen minutes, the testing tool generated more than 18,000 purchase and sale orders that resulted in executions of buy and sell orders totaling over 28 million shares. The erroneously-acquired positions were placed into ArcaSec's error account.

Prior to any notice being provided to the Commission by ArcaSec that the incident had occurred, Arca employees on the Arca Trade Operations Desk ("TOD"), acting under the direction of a senior Arca official and with the knowledge of NYSE senior management, and in their dual capacities as registered representatives associated with ArcaSec, traded out of the positions in the ArcaSec error account during the after-hours market on January 11 and during market hours the morning of January 12. The trading resulted in ArcaSec sustaining a net loss of $1,175,274.
Emphasis, of course, added. But the unemphasized stuff is what's important: The SEC is mad at NYSE because its Arca exchange traded $4 billion of stock in its error account, when it was not actually authorized to trade that much stock, or any stock, or have an error account at all. Arca set up its error account in 2005, but didn't get around to submitting a proposed rule to the SEC authorizing the account until 2011 (after the SEC found out about this debacle), and didn't get the rule approved until May 2012. It's totally reasonable for an exchange to have an error account -- to, y'know, fix errors -- but NYSE/Arca hadn't filled out the proper paperwork for its error account.
The problem is the paperwork! Not the IT guy who accidentally connected the testing tool to the live exchange and bought and sold billions of dollars worth of stock at a million-dollar loss. The problem is that they fixed that mistake without first filling out the proper paperwork.
But that's just Section A of H; NYSE and its affiliated exchanges did seven other dumb things, too:
Arca let the error-account traders look at non-displayed liquidity.
Arca briefly ran out of money, with a net capital deficiency of $99 million, again due to that big January 2010 trading error.
NYSE ran a facility called the New York Block Exchange that was supposed to access non-displayed NYSE liquidity but did not, basically because it was too hard.
NYSE messed up the automated feed of closing order imbalances in a way that is too boring for me to summarize in this sentence or even to read.
Arca changed the way it executed midpoint passive liquidity orders in locked markets, but didn't get around to filing a rule change for the new procedure for a couple of weeks, apparently because everyone at Arca forgot that you have to file exchange rule changes with the SEC.

Arca accepted midpoint passive liquidity orders with sub-penny limits, which is not allowed under SEC rules.
And last but far from least (again, emphasis added):
"Co-location" is a service offered by some securities exchanges that enables market participants to transmit orders to, and receive information from, exchanges with reduced delay (or "latency"). Typically, market participants that receive co-location services enter orders through the same gateway as those who do not co-locate, but co-location reduces physical distance and enables their orders to reach the exchange's matching engine more quickly, and therefore interact with the matching engine sooner, than the orders sent at the same time by non-co-locating participants. The provision of co-location services is a material aspect of the operation of the facilities of a national securities exchange.
From at least 2006 until September 2010, NYSE -- through a number of affiliates -- offered co-location services to customers at data centers located in Brooklyn and in Manhattan (the "Legacy Data Centers"). Prior to offering co-location services, NYSE did not file a proposed rule with the Commission relating to co-location, nor did any rule of the exchange in effect at that time provide for or permit the operation of the co-location business. Initially, co-location was not offered as a stand-alone product, but was bundled together with other technological services. By 2008, however, NYSE had begun contracting with customers to provide co-location at the Legacy Data Centers as a stand-alone service. The fees that were charged for co-location at the Legacy Data Centers were not transparent or made publicly available. In addition, the fees that NYSE charged for co-location services at the Legacy Data Centers were not uniform for all customers, and were the product of discrete negotiations with each customer, such that each customer negotiated its own fees. As a result, not all Legacy Data Center customers paid the same fees for the same types of services.
Co-location! Secret fees that allowed some favored high-frequency traders an unfair advantage over the general public! It is the "Flash Boys" problem of unfair high-speed access that has been much in the news recently. And finally, after much dragging of feet and pressure from Michael Lewis and Eric Schneiderman, the SEC has taken a bold stand against it.
Except that this problem was solved years ago, in September 2010, "when all co-location customers were re-located to a data center in Mahwah, New Jersey, and the co-location fees were standardized pursuant to a subsequent rule filing." Here's the SEC's order approving NYSE's co-location proposal because it "will further the protection of investors and the public interest because it will provide greater transparency regarding the connectivity options available to market participants."
Why on earth fine the NYSE now for something that the SEC knew about, and fixed, four years ago? Oh I don't know probably because the "SEC has said it's reviewing every aspect of how stocks are traded, and regulators are trying to identify changes that could be implemented quickly." And "already" is a particularly convenient category of "quickly." Look, says the SEC: We have solved the problem of unfair non-transparent co-location. We solved it four years ago, but for you, we'll solve it again. The same way.
More generally, the public concern is that the stock exchanges are colluding with high-frequency traders in non-transparent ways to the detriment of investors, without any oversight. This settlement is a reminder that oversight exists, or at least ought to, or at least that the SEC wants it to:
"The SEC regulates exchanges, in part, by reviewing rules proposed by the exchanges that govern exchange activities and allow market participants to decide how and where to place orders," said Andrew J. Ceresney, director of the SEC's Division of Enforcement. "We will hold exchanges accountable if they fail to have rules governing their operations or fail to follow them."

The SEC comes in for occasional gentle ribbing around here so it's important to say: I think this is just great. Co-location has been identified, with great public fanfare, as the greatest problem facing our capital markets. But it's not. It is a very silly problem indeed. The SEC's rules about market structure are far from perfect, 2 but its rules about co-location -- exchanges can provide it as long as access and fees are fair and transparent -- seem perfectly reasonable.

But with the public's discovery that "the market is rigged," the SEC needs to do something to (be publicly seen to) un-rig it. One obvious approach would be to write good comprehensive market-structure regulation, but that will take a while (and be hard). Another, equally (more?) obvious, approach would be to write bad pandering buzzwordy regulation: Ban co-location! 3 But the SEC chose a third, non-obvious but endearing approach: Remind everyone of the sensible rules that already exist, by fining NYSE for not having them four years ago. As a knee-jerk regulatory response, you could do a lot worse.
The greatest of these is the Nasdaq Facebook debacle, which cost it $10 million, and which I still can't talk about without giggling. There's also the CBOE's overzealous customer service on behalf of optionsXpress ($6 million). And here is a 2012 NYSE fine for market-data improprieties ($5 million).

You probably won't find anyone outside the SEC who'll defend every bit of Regulation NMS. Last week we talked about one weird problematic aspect of it, the odd-lot rules, but there are many others.

This, again, might be Eric Schneiderman's approach.
To contact the author on this story:
Matthew S Levine at mlevine51@bloomberg.net
To contact the editor on this story:
Toby Harshaw at tharshaw@bloomberg.net
Before it's here, it's on the Bloomberg Terminal.
LEARN MORE