Mets' Latest Blown Save: #TrueNewYorkers
The #LOLMets just can't help themselves.
by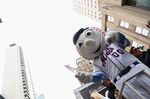 The #LOLMets just can't help themselves.
Yesterday, the New York Mets sent out a letter imploring fans to pledge their loyalty to the team and prove that they're "True New Yorkers." The letter, signed by former Met legends such as Keith Hernandez and Doc Gooden, is clearly some sort of misguided marketing attempt in the weeks leading up to the Subway Series against the Yankees. Needless to say, it backfired, as writers and fans (of both teams) panned the desperate push as "clueless" and insulting. The esteemed Craig Calcaterra doesn't really get why the letter has elicited such a response. As a New Yorker (but apparently not a True one, as I root for the Yankees), I'll do my best to explain.
After a decade of irrelevance and a complete financial meltdown, New York's other baseball team actually has cause to celebrate. The Mets might live in the Yankees shadow, but the two clubs currently have the same 15-11 record, despite a characteristically dismal outlook before the season started and ace Matt Harvey recovering from Tommy John surgery. The strapped team also showed initiative this offseason, signing free agents Curtis Granderson and Chris Young after escaping the watchful eye of Bank of America, who, until this season was controlling their purse strings and limiting their salary cap. The Mets also have a major leg up on the Yankees with one of the strongest farm systems in the league. The future is bright, and the present isn't quite as dim as we all expected.
And yet, these are still the Mets we're talking about. This is a team that finds new ways to embarrass itself, from the inconsequentially hilarious (that time Mr. Met was believed to be a security threat by President Bill Clinton's Secret Service) to the more serious concerns of Mets great Mookie Wilson, who wrote in his new autobiography that the team now treats him as a "hood ornament." You can't blame the fans if they're a bit weary after years of losing games and hemorrhaging money, and it shows: The Mets haven't finished with a winning record since 2008, and home attendance has dropped 32.5 percent since Citi Field opened in 2009. According to Forbes, the Mets rank 26th of 30 MLB teams in fan loyalty, made worse by the fact that the hated Yankees rank first.
Yes, the letter is at best the latest silly thing in a long line of silly things the Mets have done. But it's also a lazy attempt to procure fan sentiment by appealing to the lowest common denominator of fan: those who live to hate the Yankees more than love the Mets. It's no secret that some Mets fans live in a world perpetuated by an inferiority complex, but this isn't all fans, especially not when the Yankees and Mets play each other only six times a season. Mets fans are rightfully irked by this insinuation: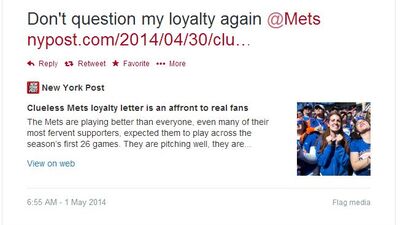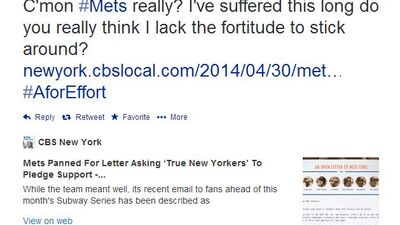 The letter is also clumsily executed, banking on the nostalgia for players who won the World Series in 1969 and 1986 and mixing in a weird appeal to fans' guilty sides: "We're calling on you to give today's club the same chance we had." According to the letter, you're only a True New Yorker if you're a Mets fan, and the implication is that you're only a Mets fan if you attend games.
But do you know what would go a much longer way to engendering fan support? Winning. Win games and keep winning games, and when you're not winning games don't blame the fans or the Yankees or the ghost of Groucho Marx -- take responsibility for front office mishandling and owner incompetence and start acting like you do, in fact, reside in the largest media market on the continent, even if you have to share it with some guys in pinstripes who think they're better than you.
Finally, the biggest problem with the letter: its utter futility. As we found back in September 2001, being a True New Yorker has nothing to do with one's baseball affiliation. And if it did, it would be no contest.
This column does not necessarily reflect the opinion of Bloomberg View's editorial board or Bloomberg LP, its owners and investors.