Latest Obamacare Numbers Highlight the Rough Spots
The latest enrollment figures show where the administration still has some work to do.
by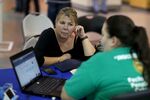 Admit it: After seven months of full-blown hysteria, you're finding it hard to stay interested in how many people sign up for Obamacare. We've known for some time that whatever existential threats the Affordable Care Act faces, low enrollment is no longer one of them.
Still, it's worth digging through thelatest batch of enrollment figures from the Department of Health and Human Services. They show where some of the law's weak points are and offer a guide to what the Barack Obama administration will need to focus on between now and the next open enrollment period.
The headline number is no surprise, because Obama had already announced it: More than 8 million people had picked a health plan on the law's state exchanges by April 19 -- the end of the special enrollment period for people who claimed to have trouble using the federal website:

More interesting is the demographic breakdown of who signed up. The latest figures show that women continue to outnumber men, 54 percent to 46 percent, which is relevant because women may cost more, on average, to cover. The real question is whether insurers built that gender imbalance into their premium estimates, in which case it won't necessarily cause premium increases next year. The administration says that imbalance is no surprise; we'll see if insurers agree.
Another perennial point of interest is the share of enrollees who are young, which has become a proxy for healthy, and therefore cheap, and therefore good for the risk pool. Enrollment among the coveted 18- to 34-year-old age group was initially lower than the 40 percent projected by the administration; it responded by predicting a last-minute surge in young people.
The latest data show that surge never really materialized. In the first three months of this year, 27 percent of enrollees were 18 to 34. From March 2 to April 19, the corresponding figure was 31 percent, for a total of 28 percent of all enrollees so far.
But how good a proxy for health is age anyway? I spoke with insurance executives this week who said not very, citing as an example the high number of young people with HIV who have enrolled in their exchange plans. Those executives said they still don't have a good idea what their own risk pools look like, so it seems early to draw any firm conclusions about the exchanges as a whole.
Then there's the question of the administration's ability to persuade minorities, and especially Latinos, to sign up for coverage. In the states whose exchanges are run by the federal government, just 11 percent of enrollees who stated their race identified as Latino, which is lower than their share of eligible Americans. Almost one-third of Latinos were uninsured in 2012, so the failure to reach more of that group is cause for some concern.
It would be more concerning if those data were any good. It turns out that 31 percent of those who signed up for exchange coverage declined to report their race or ethnicity, which makes the 11 percent figure hard to put much faith in. Nonetheless, the administration will struggle to keep hitting its enrollment targets if it doesn't persuade more Latinos to sign up.
The most serious challenge to Obamacare, at least as far as enrollment is concerned, is one these latest numbers don't address: How many people who pick a plan will stick with it? House Republicans said this week that just 67 percent of people had paid their first month's premium. The administration disputed that figure, but it said it won't release its own numbers until later this year.
Nothing in this latest batch of data changes the odds of Obamacare succeeding. It just tells us where the rough patches are.
This column does not necessarily reflect the opinion of Bloomberg View's editorial board or Bloomberg LP, its owners and investors.