Is Putin's Next Conquest the Brooklyn Nets?
The whole world is talking about this Donald Sterling hullabaloo, another NBA owner's puzzling business decisions have flown largely under the radar. 
by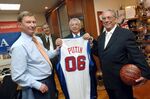 As the whole world is talking about the Donald Sterling hullabaloo, another NBA owner's puzzling behavior has flown largely under the radar.
Last month, Brooklyn Nets majority owner Mikhail Prokhorov announced his plans to move his company, Onexim Sports and Entertainment, to Russia. "A Russian company will own the basketball club," he said to a room full of Russian sports officials, insisting the move would be in accordance with NBA rules.
If the idea of having an NBA team's business operations conducted internationally sounds strange to you, you're not alone: Both the NBA and Onexim itself downplayed the comments as premature, though the Delaware-based company did acknowledge it had had "preliminary discussions" with the league last spring. "The Nets are owned by Mikhail Prokhorov through a U.S.-based company," NBA spokesman Mike Bass said in a statement. "We have received no official application nor is there a process underway through our office to transfer the ownership of the Nets to another company."
What small coverage this announcement received largely tried to blame the current state of relations between Russia and the U.S., and the economic sanctions Washington has brought against Moscow amid the Crimea crisis. PBS Newshour, for example, ran its story under a headline that stated the Nets' potential move was "to protest U.S. sanctions." So let me get this straight: Not only are U.S. sanctions both ineffective and provoking Vladimir Putin, they're also banishing a successful, professional sports franchise to Siberia? That's a whole lot of action stemming from the White House's supposedly ineffectual foreign policy.
Sure, Putin has asked Russian businessmen to withdraw their foreign assets in the face of U.S. sanctions. But in this case, it's unclear whether that plays into Prokhorov's thinking. And my colleague Leonid Bershidsky offers a more likely explanation: Prokhorov wants to return to politics. Russian law prohibits anyone with foreign assets from running for office, which would explain Prokhorov's desire to repatriate Onexim. He ran for president against Putin in 2012, a move that was seen by some as an attempt "to preserve Putin's regime." He had wanted to run for mayor of Moscow last year but dropped out due to the Kremlin's "legal tricks," referring to the prohibition of foreign holdings. He also vowed to transfer his assets back to Russia in time for the 2014 Moscow City Duma election.
Onexim has taken care to assure people that repatriating "is a long process, which may or may not come to fruition, and nothing is imminent." For now, the Nets will continue to operate out of the U.S., where they will continue to blow leads late in playoff losses.
This column does not necessarily reflect the opinion of Bloomberg View's editorial board or Bloomberg LP, its owners and investors.