AT&T Buying DirecTV Doesn't Signal Dystopia
There is no reason to fear telecom consolidation: It will eventually lead to seamless connectivity.
by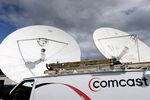 It's easy to picture the telecom market's future as a monopolistic dystopia, what with AT&T reportedly interested in DirecTV and Comcast about to complete its acquisition of Time Warner Cable. The bigger corporations get, the more sinister they look. There is another possibility, however: The mergers may be taking telecom competition to an entirely new level, a desirable outcome for consumers.
This brighter kind of future is beginning to emerge in Europe with a spate of deals involving different broadband platforms. The U.K.-based mobile operator Vodafone has acquired cable companies in Germany (Kabel Deutschland) and Spain (Ono). The French cable group Numericable has won a bidding war for the mobile operator SFR, which Vivendi decided to divest.
What a customer can ultimately get out of these mergers is seamless connectivity. With a single contract and a single set of credentials entered into a device such as a laptop, smartphone or tablet, you will eventually stop paying attention to how you are connected and what you're connected to: Your home WiFi network linked to a cable modem, an LTE or 3G network or a public WiFi hot spot. You have the same carrier everywhere, only the connection quality and speed may vary a little. Ideally, you'd get access to your favorite content, including cable channels, anywhere and on any device.
The potential AT&T - DirecTV deal adds satellite to the menu. While that may not look particularly necessary in the context of seamless connectivity, the technology's applications such as satellite backhaul -- the use of satellites to bridge gaps in cellular networks -- could be useful in providing wireless access in rural areas. It could also help in setting up hot spots at large concerts, where nobody can post to Instagram because mobile operators' cells get overloaded.
The perfect telecom provider should have a satellite fleet, a mobile network, a fiber optic infrastructure and a web of WiFi hot spots. It can then concentrate on providing some kind of connectivity everywhere. There will be no need for overlapping coverage of every area with cell towers and WiFi as long as a customer's device picks up some kind of signal. In a big city, a customer might spend most of her connected time on WiFi. In the U.S., cable companies are actively building up hot spot networks: the CableWiFi alliance, which includes Comcast, Bright House Networks, Cablevision, Time Warner Cable and Coc Communications, has 250,000 of them nationwide.
Scratch, a Sprint virtual operator launched this year, exploits that expansion by making free WiFi the primary option for its customers and selling cheap cellular backup. In January, its early tests showed that subscribers used WiFi for 95 percent of their voice calls and 34 percent of texts. Republic Wireless is another startup emphasizing WiFi over cellular.

Integrating various platforms allows a telecom operator to shift resources from building networks that might duplicate each other to solving the real problem: Allowing people to connect from anywhere. Incidentally, as wireless connection speeds accelerate, the local monopolies of some cable operators in the U.S. will become irrelevant. Integrated operators will strive for full coverage, regardless of the technology they use in a particular area to achieve it. Each multiplatform operator would play to its strengths: Comcast might rely on WiFi (but still get some cellular capacity for that seamless experience), while AT&T would place more of an emphasis on its extensive wireless network.
In today's fragmented world of telecom, it is various technologies that compete. In the post-consolidation industry, the competition will be among integrated operators using complementary technologies and selling so-called multiplay bundles of television, fixed and mobile broadband and telephony.
European regulators understand that this would actually be good for consumers. In ruling last year on the Vodaphone acquisition of Kabel Deutschland, the European Commission wrote: "The possibility for the merged entity to offer more attractive triple or quadruple play bundles based on its own infrastructure (including Vodafone's mobile network and Kabel Deutschland's cable activities) may have a pro-competitive dimension."
Mergers between companies that own complementary platforms are not a corporate nightmare: They are a progressive step that will eventually allow us to choose among wholesale solutions instead of patching up a kind of communications quilt. For those geeks who will still want to do that, and for the acutely cost-conscious, virtual operators will provide that opportunity. I, for one, would rather pick a seamless package from one of three or four providers and stop worrying about switching between networks.
To contact the author on this story:
Leonid Bershidsky at lbershidsky@bloomberg.net
Before it's here, it's on the Bloomberg Terminal.
LEARN MORE