Work and Live, Retire and Die
Americans expect to retire later, but they still ending up retiring sooner than they expected.
by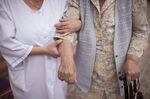 I thoroughly enjoy the regular polls that Gallup releases. I am aware of all the flaws and pitfalls of these surveys. Indeed, each new sample provides an opportunity to sharpen one's statistical cynicism.