Republicans Do an Immigration Two Step
Immigration reform just won't die in the House despite the opposition of a majority of the Republican caucus. 
by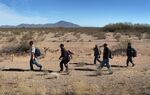 Immigration reform just won't die in the House despite the opposition of a majority of the Republican caucus. Next month will be a make-or-break moment for the measure in this Congress.
The latest signs of life, reflecting the desires of Speaker John Boehner and allies such as Congressman Paul Ryan, include: a prediction by Washington Representative Cathy McMorris Rodgers, the chairwoman of the Republican conference, to a home state newspaper last weekend that a bill could be passed by August; and senior conservative House Republican Joe Barton of Texas stating that he will introduce an immigration bill that includes citizenship for some children of undocumented workers and legal status for most adults.
The reason legislation has to start moving next month is that politically most of the potentially divisive Republican primaries are over and if things are delayed much longer there won't be time for action. Ryan, Florida Republican Representative Mario Diaz-Balart and staffers have a tentative draft, which includes the routine tough-on-the-border stuff while granting legalization to most of those here. They are in conversations with key Democratic representatives such as Illinois's Luis Gutierrez and California's Zoe Lofgren.
Any House measure wouldn't go as far as last year's bipartisan Senate-approved legislation, which created a pathway to citizenship for undocumented immigrants. House approval by the August recess, however, could pave the way for an ultimate compromise acceptable to President Barack Obama.
Boehner believes Republicans can ill-afford to keep decisively losing votes among the fast-growing Latino and Asian-American voters. Other Republican analysts argue that the party's brighter electoral prospects this fall mean that acting on an immigration bill is less likely to depress core Republican voters who are anti-immigrant.
It remains, however, an uphill battle with a tight time frame and the strong opposition of many conservative House Republicans, who argue that passage would reduce their vote in November and produce more Democratic voters in subsequent elections. If legislation starts moving, a drumbeat of opposition from the nativist right may scare off undecided House Republicans.
Much of the American business community is lobbying for immigration reform. But Republican members say there's almost no fear among the rank and file of voting against a bill because of business interests.
Thus to secure passage Boehner and Ryan realize they need to work with House Democrats. They say they need half of the Republican caucus -- or 117 members -- and now have about a third. House Democratic Leader Nancy Pelosi may demand that the House version move closer to the Senate bill to secure support from most of her members. In any case, it's a very delicate balancing act for Boehner.
The White House is following this closely. Plans to administratively ease deportation of undocumented immigrants -- following demands from Latino activists -- are being postponed after congressional Democrats warned that might kill any chance of House action.

To contact the author of this article: Albert R. Hunt at ahunt1@bloomberg.net.

To contact the editor responsible for this article: James Greiff at jgreiff@bloomberg.net.
This column does not necessarily reflect the opinion of Bloomberg View's editorial board or Bloomberg LP, its owners and investors.