Latest Sterling Outrage Victim? Kidneys
Decrying racism is popular. Fighting kidney disease, which strikes African Americans in wildly disproportionate numbers, is not.
by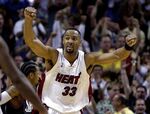 Righteous indignation is cheap. Medical research is not.
Decrying racism is popular. Fighting kidney disease, which strikes black Americans in wildly disproportionate numbers, is not.
Earlier this month, Los Angeles Clippers owner Donald Sterling's foundation pledged $3 million for kidney research at UCLA and made an initial payment of $425,000. In Sterling's customary self-aggrandizing fashion, he took out ads in the Los Angeles Times touting his own generosity. (Although the ads were written as though they came from UCLA, savvy L.A. Times readers know the distinctively cheesy style of Sterling's ads, which look the same whether they're promoting apartments or his latest charity honors.)
Now, not surprisingly, UCLA has decided to return the money. "Mr. Sterling's divisive and hurtful comments demonstrate that he does not share UCLA's core values as a public university that fosters diversity, inclusion, and respect," the university said in a press release.
All perfectly understandable.
But it means that Sterling's racist comments have now cost researchers precious funding in the fight against a racially biased disease. Blacks are more than three times as likely as whites to develop kidney disease and account for a third of U.S. kidney patients. Outrage won't help their cause.
The NBA could. The league is in a unique position to raise money for and awareness of kidney disease, which suffers from a low public profile and lack of celebrity representatives. It could start by donating Sterling's $2.5 million fine to the UCLA nephrology program to replace the lost funds. More important, over time, it could give this debilitating and deadly disease the attention it deserves -- encouraging screening, raising money for research and promoting kidney donation. It could turn the negative spillovers from Sterling's disgrace into something good.
This summer presents the perfect opportunity for the NBA to embrace kidney disease as a cause. On August 8, Alonzo Mourning will be inducted into the Naismith Memorial Basketball Hall of Fame. NBA fans know him as a defensive great and long-time center for the Miami Heat. He is also one of the country's most famous kidney transplant recipients. His cousin Jason Cooper, who gave him the kidney, will be with him for the honors. Sports reporters will undoubtedly tell their story again. The league has a chance to add a new chapter.

This column does not necessarily reflect the opinion of Bloomberg View's editorial board or Bloomberg LP, its owners and investors.
To contact the author on this story:
Virginia Postrel at vpostrel@bloomberg.net
To contact the editor on this story:
Toby Harshaw at tharshaw@bloomberg.net
Before it's here, it's on the Bloomberg Terminal.
LEARN MORE