Which New Nokia Is Worse?
Nokia has survived Stephen Elop's reign, but now a fiasco is brewing under him at Microsoft.
by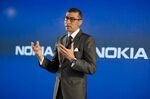 Now that the Microsoft-Nokia deal is officially done, the heads of the two Nokias -- the Finnish company that is now primarily a telecom equipment maker and the Microsoft Devices Group, which for the time being still brands its mobile phones Nokia -- have told the world what they intend to do. One, Rajeev Suri, has a cautious strategy. The other, Stephen Elop, has a pitiful copycat marketing idea.