Buffett and Coke's Sweet CEO Pay
Coca-Cola CEO Muhtar Kent's pay is rigged to remain at very high levels, with modest downward adjustments in bad years and potentially astronomic rewards in good years. 
by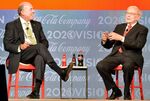 Warren Buffett opposes (though he didn't vote against) Coca-Cola Co.'s new employee stock plan as excessive. The problem, which Buffett didn't mention, starts with the chief executive officer, Muhtar Kent. Although Kent is far from America's most overpaid CEO, his compensation demonstrates everything that is wrong with executive pay.