Congress Is Old and in the Way
Even the new blood in Congress is old blood. 
by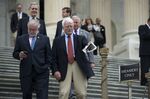 Nate Silver and Dhrumil Mehta yesterday tried to make something of the age gap between Congressional Democrats and Republicans; Democratic members have been a bit older than Republicans in recent decades, even though Republican voters tend to be older than Democratic voters. I don't know how interesting that difference is -- the universe of potential candidates is very different from the universe of voters, so I wouldn't expect consistency.
What's important is the demographic trend that Silver and Mehta identify: New members keep getting older. In fact, eyeballing their chart of the average age of new members, it appears that today's first-term legislators are close to a decade older than their counterparts in 1981, when President Ronald Reagan entered the White House. Over the past two terms, they report, incoming Democrats averaged 51.7 years, and incoming Republicans 49.0.
Despite heavy turnover in the past decade (thanks to landslide elections in 2006, 2008 and 2010 followed by redistricted seats in 2012), Congress isn't getting any younger, although a succession of record-oldest Congresses has at least flattened out. It's one thing when the advantages of incumbency produce aging legislators; it's another when the ranks of Congressional freshman fail to include lawmakers in their 20's, 30's or even 40's.
It's not clear what is driving the trend. It could be a function of perceptions (or reality) that wealth is increasingly necessary to win office. If so, that's a double hit to what's called "descriptive representation" -- the extent to which a legislature is demographically similar to the overall population. If being rich (and therefore unrepresentative) is linked to being older (and therefore unrepresentative), the demographics of Congress will be increasingly out of sync with the demographics of the nation.
A more benign hypothesis is that our elderly Congress is related to the growing numbers of women legislators. Women often enter Congress later in life than men (perhaps because they are less likely to want to commute between their districts and Washington, D.C. when they have young children?). That might also explain why incoming Democrats, who are far more likely to be women, are also older.
There are other possible explanations. Maybe it concerns larger demographic trends in the workforce. Perhaps it's a product of stronger parties. (The era of younger legislators does seem to correlate to the peak of candidate-centered elections. Perhaps stronger parties require lengthier periods of dues-paying before running for Congress.)
I don't know the answer and, as far as I know, there's no good study on it.
But if it's important to have a legislature that is demographically similar to the overall population -- and I think generally it is -- then the skewed demographics of Congress signal a problem. I have no problem with legislators in their 50's, 60's or even older. But they should be balanced by young politicians eager to fashion long, productive careers of their own in Congress.
This column does not necessarily reflect the opinion of Bloomberg View's editorial board or Bloomberg LP, its owners and investors.
To contact the author on this story:
Jonathan Bernstein at jbernstein62@bloomberg.net
To contact the editor on this story:
Frank Wilkinson at fwilkinson1@bloomberg.net
Before it's here, it's on the Bloomberg Terminal.
LEARN MORE