Congress Is Old and in the Way
Even the new blood in Congress is old blood. 
by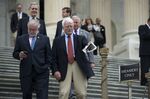 Nate Silver and Dhrumil Mehta yesterday tried to make something of the age gap between Congressional Democrats and Republicans; Democratic members have been a bit older than Republicans in recent decades, even though Republican voters tend to be older than Democratic voters. I don't know how interesting that difference is -- the universe of potential candidates is very different from the universe of voters, so I wouldn't expect consistency.