Baseball's Cuban Player Crisis
Florida lawmakers are looking to goad Major League Baseball into changing a policy that effectually encourages human trafficking.
by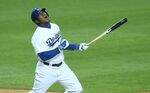 Florida lawmakers are looking to goad Major League Baseball into changing a policy that effectually encourages human trafficking. It's an admirable effort, but the fact is that nothing MLB does will really help until the U.S. government change its convoluted and counterproductive policies toward Cuba.
On Friday, the state's House approved a bill that would provide sales tax breaks for various professional sports events including football, basketball, hockey, soccer, rodeo and Nascar. It pointedly excludes baseball. According to the Miami Herald, HB 7095 provides $12 million total in annual subsidies for stadium renovations and construction. Teams would apply for a maximum of $2 million a year for up to 30 years.
Baseball is left out in an effort to persuade MLB to adjust its policy regarding Cuban players, whose plight has resurfaced thanks to deep-dive articles in Los Angeles magazine and ESPN the Magazine chronicling Los Angeles Dodgers star Yasiel Puig's convoluted and dangerous journey to the U.S. The league requires that players defecting from Cuba establish residency in another country before coming to the U.S. and negotiating with teams as a free agent. If a Cuban player comes directly, he is subject to the amateur draft, which limits salaries and signing bonuses and could ultimately cost a talented player like Puig millions of dollars.
As a result, players go often through unsavory channels to find their way out of Cuba. Puig, for example, tried to defect to Mexico five times and had to enlist the services of smugglers with ties to a Mexican drug cartel. He ultimately made it to the U.S., but not before being held captive in a motel room and promising to pay his smugglers 20 percent of his future earnings.
Baseball fans were largely introduced to a somewhat romanticized version of Cuban players' escape to American shores in 1998, when Orlando Hernández made his MLB debut with the New York Yankees. At the time, the watered-down story invoked images of El Duque and his fellow defectors on a raft, their biggest obstacle the treacherous ocean. His tale had been fictionalized in all directions to fit a comfortably sanitized narrative of American freedom as the savior of refuges of Cuba under communism, and El Duque is mostly remembered these days for pitching in the majors at who knows what age.
But we also now know that his defection wasn't so rosy and, like Puig's, involved smugglers and constant threats from back home. Another common thread: El Duque opted to go to Costa Rica in order to bypass MLB's draft -- even though he was offered political asylum by the U.S.
The push by Florida lawmakers is thus well-intentioned but misguided. Why condemn a faulty MLB policy that only exists because of a disastrous federal policy? Yes, the league requirement that those defecting directly to the U.S. enter the draft encourages players to find a third country of residence, and it's true that the amateur draft itself is incredibly problematic. It's also true that MLB's stipulations for Cuban players exceed the minimum government requirements for signing with a team, by mandating that a player obtains an extra, specific license from the U.S. Treasury's Office of Foreign Assets Control, a process that can take six months.
But that rule, implemented more than a year after Puig defected, isn't the main target of HB 7095's baseball amendment, whose authors say their goal is "equality" for Cubans among all foreign players. In this case, MLB is just following the government's lead: The Department of Treasury, which enforces the embargo against Cuba, prohibits "transactions involving Cuban nationals" unless they are authorized as "unblocked nationals," a status achieved by those "who have taken up permanent residence outside of Cuba." Indeed, the U.S. government is encouraging human trafficking with its silly "wet foot, dry foot" policy. Even if the league got rid of the residency requirement and made an exception allowing Cuban players granted asylum in the U.S. to sign as free agents, American policy would still embolden smugglers to help players flee Cuba in the first place. As the title of Scott Eden's ESPN article asserts, "No one walks off the island."
Still, the league should be held accountable for engaging in what Yahoo Sports' Jeff Passan likens to baseball's "don't ask, don't tell" policy. Teams look the other way as agents with dollar signs in their eyes and little regard for player safety turn to smugglers to get their meal-tickets to America. The bill seeks to combat this complacency by enlisting local teams, the Miami Marlins and Tampa Bay Rays, to pressure the league into reporting any knowledge of trafficking to the Florida attorney general. There are currently 19 Cuban players in the majors, and MLB is certainly a worthy and powerful target. But the league is merely a bit player in the Washington's prolonged drama with Havana.
This column does not necessarily reflect the opinion of Bloomberg View's editorial board or Bloomberg LP, its owners and investors.