What's Up With Charlie Munger's Other Company?
Why can't Charlie Munger's other company close its books on time?
by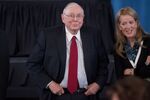 New York Times columnist Joe Nocera threw a well-deserved dart at Warren Buffett the other day for failing to practice what he has preached at Coca-Cola Co., where Berkshire Hathaway Inc. is the largest shareholder and his son, Howard Buffett, is a director.