Say 'Non' to French Interference on GE's Alstom Bid
Globalization has put paid to the notion that domestic political posturing should be allowed to block a takeover. France should stop interfering in GE's attempts to buy Alstom. 
by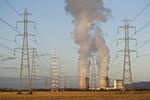 General Electric's Jeffrey Immelt wants to buy the energy assets of France's Alstom in what would be GE's biggest ever takeover. Some French officials, however, would prefer to contrive a European deal with Germany's Siemens. So will suspicion of les Americains triumph?