Only Losers Need Apply for Presidency
The setbacks that lead to victory.
by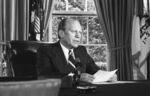 Bonus trivia about the experience of presidential nominees: Every candidate to win an open nomination in the modern era had at least one loss on his record. That's not counting Gerald Ford, who ran for the House with no prior political experience, beat an incumbent in a primary to gain the seat, and then stayed in Congress until, improbably, he wound up vice president and then president and was re-nominated in a close contest. Everyone else lost sometime along the way.
This probably is no more than a weird fluke. Barry Goldwater doesn't seem to have lost anywhere until 1964; John Kennedy and Richard Nixon were both undefeated when they faced off in 1960, unless we count Kennedy's attempt to win the vice-presidential nod in 1956.
What about 2016? Hillary Clinton, of course, contested the 2008 nomination and fell short.
On the Republican side, several of the candidates appear to be undefeated: Marco Rubio, John Kasich (who explored a presidential run in 1999), Rob Portman, Ted Cruz and Rand Paul.
And Jeb Bush fits the recent pattern: three previous elections, including one loss. Others who have lost elections include Chris Christie, Mike Huckabee, Rick Perry, Rick Santorum, Paul Ryan, Bobby Jindal, Mike Pence and Scott Walker. That increases the odds that the string won't be broken on either side in 2016.
One could spin a tale of how losing toughened a candidate and gave him or her moxie, but it's probably just dumb luck; I wouldn't be surprised if half of the next dozen nominees reached that point undefeated.

This column does not necessarily reflect the opinion of Bloomberg View's editorial board or Bloomberg LP, its owners and investors.
To contact the author on this story:
Jonathan Bernstein at jbernstein62@bloomberg.net
To contact the editor on this story:
Max Berley at mberley@bloomberg.net
Before it's here, it's on the Bloomberg Terminal.
LEARN MORE