view
How to Force Donald Sterling Out of the NBA
As the fallout continues from Donald Sterling's allegedly racist remarks, many wonder what can actually be done to discipline the Los Angeles Clippers owner. 
by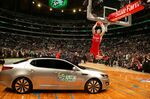 As the Donald Sterling fallout continues, many wonder what can actually be done to discipline the Los Angeles Clippers owner.
The NBA is continuing to investigate the audio tape on which a man believed to be Sterling disparages his girlfriend for associating with black people, but calls have immediately come down for commissioner Adam Silver to levy punishment. If the league confirms the tape, at the very least, Sterling should receive a lengthy, if not indefinite, suspension, while some think his days as an owner should be numbered.
"Something has to be done, and if that means him losing the team, then that has to happen," said Magic Johnson, whose seemingly innocent appearance in an Instagram photo with Sterling's ex-girlfriend apparently sparked this whole affair. LeBron James agreed: "There's no room for Donald Sterling in the NBA."
This isn't the first time Sterling's attitudes on race have come to light, and we'd all be better off if he would just go away. But as Sports Illustrated's Michael McCann notes, the NBA likely can't legally expel Sterling from the league, a move that could be in violation of both the league's confidential constitution as well as federal antitrust laws. A few owners -- the Miami Heat's Micky Arison, San Antonio Spurs' Peter Holt, Sacramento Kings' Vivek Ranadive, and, of course, Charlotte Bobcats' Michael Jordan -- have pointedly condemned Sterling's statements. For the most part, however, Sterling's colleagues have remained silent, wary of the precedent that would be set by stripping a fellow owner of his team for non-financial reasons. And, despite the calls for them to boycott the playoffs, it's unfair to expect the burden of punishing Sterling to fall entirely on the players and coaches, whose life goal has been to win a championship.
The onus then falls to the invisible hand of the market to force Sterling to spare us all of his continued presence in the league. You can't fault Chris Paul for staying on the team -- he has four years and more than $88 million left on his contract. But you can be certain that after the current roster's deals all expire, the Clippers won't be able to sign many free agents should Sterling remain the team's owner. Outside of the Lakers, Los Angeles would become the Chernobyl of the NBA.
Furthermore, pending the league's investigation, the team's corporate sponsors must take a stand. According to Forbes, the Clippers' major sponsors include Dodge, Kia, State Farm and Mercedes-Benz, while ESPN's Phil Murphy adds Amtrak, Anheuser-Busch, CarMax, Corona Virgin America, and Yokohama Tire. (Anheuser-Busch, a league sponsor, said in a statement today that it had ended its relationship with the Clippers in 2009.) The chips have already begun to fall: Insurance giant State Farm is taking a "pause" from its sponsorship. Steve Stoute, head of the marketing firm Translation, which represents the insurance company, made the announcement Monday on Colin Cowherd's show on ESPN Radio, stating that "somebody has to force the sale of this team." Stoute added that State Farm could continue its relationship with individual players -- good news to those of us who love those ads featuring Paul and his "twin" -- but would sever ties to the organization. After nine years sponsoring the Clippers, used car company CarMax is also done, telling the Huffington Post that Sterling's comments "necessitate that CarMax end its sponsorship." Add Virgin America to that list, per CNBC's Ryan Ruggiero.
How many more companies will follow suit? In today's cynical world, we should note that while severing ties with Sterling is an important stand in a moral sense, it's also good publicity for sponsors in a league whose fanbase is 45 percent black and 45 percent young, and thus has an increasing intolerance for intolerance. Kia also came out against Sterling's comments -- a good move after its commercials featuring rapping hamsters were criticized for invoking racial stereotypes. (In addition to the gold chains and hoodies, "hamster" is a derogatory slur for a black child.) In 2012, Mercedes-Benz's flagship dealership in Manhattan was at the center of a racial discrimination controversy when two employees sued the company claiming they were fired for reporting racist graffiti in the bathrooms to their supervisors.
Donald Sterling needs to be hit where it'll hurt him the most: his wallet. A man who insists he's not racist while continuing to deny the dignity of black men will stubbornly keep his aging hands gripped around his team until he's forced to give it up. Fortunately, there are plenty of wealthy people looking to own an NBA team -- among them, Magic Johnson himself. To watch him go from not being welcome at Clippers games to occupying the owner's box would be a fitting resolution to this ugly ordeal.
Updates with statement from Anheuser-Busch in sixth paragraph. Corrects name of marketing firm in sixth paragraph and San Antonio Spurs owner in fourth paragraph.
To contact the author on this story:
Kavitha A Davidson at kdavidson19@bloomberg.net
To contact the editor on this story:
Toby Harshaw at tharshaw@bloomberg.net
Before it's here, it's on the Bloomberg Terminal.
LEARN MORE