Herbalife Sure Is Buying a Lot of Stock
Like, 10 percent of daily volume. That is a lot of stock!
by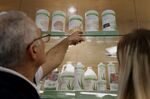 Herbalife announced earnings this afternoon and, I don't know, earnings. I prefer to think of Herbalife as a frayed rope in a financial tug-of-war rather than as a company with earnings, but nonetheless there were earnings.
Net income for the quarter ending in March was $74.6 million; cash flow from operations was $190.6 million; amount going out the door for share repurchases was $694.5 million, and that doesn't count another $123.8 million for capped call transactions. Or the $255 million that Herbalife spent over the first 18 trading days in April to buy even more stock. That's a total of more than $1 billion spent on buying back shares, one way or another, almost equal to the $1.15 billion that Herbalife raised in its big convertible bond offering in February. 1
Those are irresistibly big numbers, and I did not resist them. Here are Herbalife's share repurchases, as a percentage of daily volume: 2

Those are kind of wild numbers! And, actually, the first-quarter numbers are a bit exaggerated, since Herbalife did most of its buying in one big swoop, from hedge funds who were naturally set up to sell stock to hedge the convertible that it issued. If you ignore that one day of buying, basically Herbalife averaged less than one percent of daily volume for the previous 15 months -- and then almost 10 percent of volume in April.
For comparison, Bill Ackman's "rapid accumulation" of Allergan stock -- which pushed the stock price up by 22 percent over six trading days -- ran at about 34 percent of daily volume. You would not be crazy to assume that Herbalife's buying has had a smaller, but still significant, effect in propping up the stock price.
Or another comparison: Net income over the past 15 months totals about $650 million; cash flow from operations was a little under $1 billion. Throw in the $297.4 million that Herbalife spent on share repurchase last year, and you get over $1.3 billion of share repurchases and related transactions in the last 16 months, well ahead of operating cash flow and more than double net income. Herbalife is funneling money to shareholders faster than it can make it.
And the pace is speeding up -- as you can tell not only from that spike in April, but also from the fact that Herbalife canceled its dividend to buy more stock:
The company's board of directors also announced today that, as part of its goal to accelerate cash returns to shareholders, it has approved terminating the company's quarterly cash dividend and instead utilizing the cash to repurchase additional shares of the company's outstanding common stock during the second quarter of 2014.

The company now expects to repurchase a total of $581 million of its outstanding common stock during the second quarter of 2014 as part of its previously announced $1.5 billion share repurchase program. The $581 million is comprised of the approximately $315 million expected to be purchased in April as part of a 10b5-1 trading plan ($255 million already completed as of Friday, April 25); plus the $50 million included in previous guidance and $216 million that otherwise was expected to be returned to shareholders in the form of quarterly cash dividends over the next eight quarters.
Notice that there's $60 million left to do in April -- that is, today, tomorrow and Wednesday. The stock is at around $60, meaning that Herbalife needs to buy about a third of a million shares a day, or almost 13 percent of April's average volume, over the beginning of this week. Even without looking at earnings, you can understand why the stock is up in after-hours trading: There's going to be a huge buyer tomorrow. 3
I do not know what to tell you! Carl Icahn is pleased:
Great move by #HLF to suspend dividend & buyback shares. $HLF accelerates return to shareholders. Confirms confidence in the future.

And, sure: Herbalife decided to accelerate two years of dividends into two months of stock buybacks. Much like last quarter's convertible bond offering accelerated, like, umpteen years of buying shares out of cash flow into a glorious one-day orgy of share repurchase. It's definitely something you'd do if you were very, very confident that there was even more cash coming in the future. 4
But it's also something you'd do if your focus in capital planning is not so much to return money to shareholders as you earn it over time, but rather to intensively support the stock in the short term. Which would make sense: As attacks on Herbalife have intensified, why wouldn't the company rev up its defenses? If you want to keep your stock price up in the face of Bill Ackman's attacks, buying hundreds of thousands of shares every day is a good way to do it. If you want evidence that Herbalife is more of a tug-of-war story than an earnings story, this earnings release is a pretty good place to find it.
To contact the author on this story:
Matthew S Levine at mlevine51@bloomberg.net
To contact the editor on this story:
Toby Harshaw at tharshaw@bloomberg.net
Before it's here, it's on the Bloomberg Terminal.
LEARN MORE