Buy London Mansions on Russia Sanctions
As the talk of international sanctions against Russia got tougher, Russians stepped up buying activity in the London real estate market. The U.K. government does nothing to end the market's anonymity. Instead, it taxes the capital inflow.
by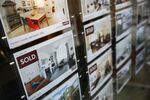 Targeted sanctions against Russians and pro-Russian Ukrainians are proving a boon to London's real estate market. Some of the $51 billion that fled Russia in the first quarter of 2014 is headed there, with attempts by the U.K. government to curb the use of London property as a haven from the new Cold War's economic fallout unlikely to create an effective barricade against this cash inflow.
In January, the Guardian newspaper published an investigative report on mansions standing empty on The Bishops Avenue in North London, ranked Britain's second-most expensive street last year. It said a row of 10 houses worth a total of $122 million have stood unused since they were bought between 1989 and 1993, supposedly on behalf of Saudi royalty. Two months later, The Economist mentioned that Glentree International, a real estate agency catering to wealthy foreigners buying homes in North London, had "brokered a deal for undisclosed Russian interests" to buy these same properties as an investment, to be refurbished and sold off separately.
"We have certainly seen an upturn in Russian buyers as well as eastern Europeans generally," Charles McDowell, a property finder for wealthy buyers, is quotedas saying by the Financial Times. "Russians in particular are nervous about how any escalation in sanctions might affect them."
It is somewhat counterintuitive that sanctions should prompt Russians to buy real estate in the U.K., not sell it. There has been a lot of big talk about property seizures and bank account freezes, so why would the beneficiaries of President Vladimir Putin's regime expose themselves even more to all the unpleasantness?
The answer is twofold. Firstly, few if any of the Russian buyers are on the sanctions lists and never will be, because they are not close enough to Putin. What they fear is broader sanctions against entire areas of the Russian economy. If Moscow becomes truly isolated internationally, it's better to be on the outside than the inside. Secondly, the London real estate market is a safer haven even for suspect capital than most other investments: It is, to all intents and purposes, anonymous. It is also highly liquid and protected by an excellent legal system, making it hard to beat as a destination for capital flight.
There are no restrictions on the purchase of property by foreigners in the U.K., and it is possible to buy a house in the name of an offshore company, as many foreigners do. Officially, the government is displeased. In March, George Osborne, the finance minister, railed against the "corporate envelopes" used to hold empty buildings, saying "this abuse will end." All he did, however, was extend the 15 percent "stamp duty," or transaction tax, levied since 2012 on house purchases of over $3.35 million, to deals worth more than $840,000 when the purchaser is a company.
Last year, the tax did nothing to discourage the corporate purchases, raising $118 million for the U.K. government. The duty is not charged when the house is rented out, which makes it easy to avoid - after all, a fictitious lease is not the most difficult thing in the world to arrange - but the fact that the government collected five times as much as it expected from the tax shows that many buyers don't bother with such petty schemes. Nor will they be discouraged by the introduction of capital gains tax for foreign property investors from 2015: They are looking for safe, quiet investment opportunities, not bargains.
London real estate is hellishly expensive, anyway. Locals routinely spendmore than 50 percent of their income on rent. In 2013 the average British home appreciated by 8.4 percent, while London prices grew by 14.9 percent. And while the average U.K. house price is 5 percent below its 2007 peak, London's prices are already 14 percent higher. It is a bubbly market in which, as the British Property Federation recently found, 61 percent of newly-built property was bought as an investment last year. Foreigners drove the 2013 boom, with 49 percent of new housing in prime areas of Central London bought by non-residents.
The U.K. government is more interested in taxing the money-no-object investment than in stopping it. Otherwise, the U.K. Land Register would be required to list the beneficiaries of the offshore companies that own the mansions and posh new apartments. Transparency would be much more of a blow to the hundreds of "undisclosed interests" -- Russian, Ukrainian and otherwise -- that have helped drive up the temperature of the London real estate market, as measuredby consultants at Jones Lang LaSalle, to 8.1 on a scale of 1 to 10 (very hot).
This column does not necessarily reflect the opinion of Bloomberg View's editorial board or Bloomberg LP, its owners and investors.