The Peace Process Is Dead. Long Live the Peace Process.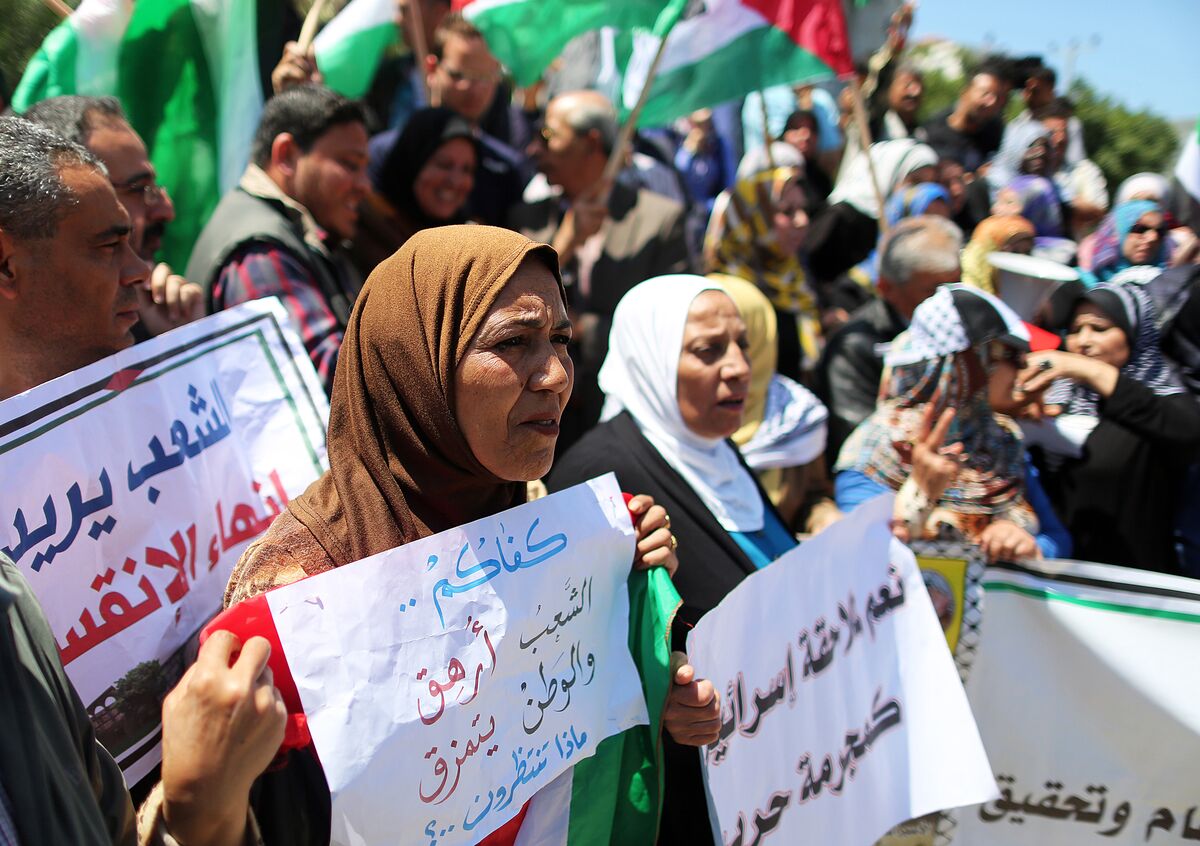 Palestinians attend a protest in Gaza City calling for an end to divisions between Fatah and Hamas. Photographer: Mustafa Hassona/Anadolu Agency/Getty Images
Even if he doesn't know it yet, U.S. Secretary of State John Kerry's effort to resolve the Israeli-Palestinian conflict is finished. That doesn't have to mean an end to the prospect of a peaceful resolution to the conflict, however.

In fact, Palestinian President Mahmoud Abbas's plans to pursue a unity government with the radical group Hamas could actually improve long-term chances for peace -- if the Israelis, Palestinians and Americans focus on that goal instead of whether and how to respond to Abbas's gambit and Israeli Prime Minister Benjamin Netanyahu's truculent response.
A unity government between Abbas's Fatah party and the Islamist Hamas, which at least theoretically is committed to Israel's dismantling, might seem lethal to the peace process. Yet it could prove essential.
Since a violent conflict between Fatah and Hamas in 2007, Fatah has ruled the West Bank, while Hamas has governed the Gaza Strip. Thus, Abbas could claim to represent only about half the Palestinians in the two territories. That made any deal he might make with Israel of questionable validity.
Israel -- not to mention the Palestinians -- should want a representative with the authority to negotiate on behalf of all Palestinians. But establishing those bona fides would require new elections, which in turn would require a unity government to give both Fatah and Hamas confidence in the outcome of the vote.
Forming such a coalition will be difficult. Earlier attempts have repeatedly failed, and Abbas has five weeks to succeed.
In the meantime, Israel and the U.S. should avoid the temptation to threaten him if he does. It makes no sense, at this point, for the U.S. to cut assistance to the Palestinian Authority, or for Israel to suspend remittances of tax and customs revenue to the authority or hasten settlement building.
To be clear: Hamas is a terrorist organization, so classified by both the U.S. and Israeli governments. It has engaged in atrocious acts and is devoted, in its charter, to Israel's military defeat. As it has assumed the responsibilities of governing, however, there are signs it is becoming more moderate. Despite its charter's rejection of negotiations with Israel, for example, Hamas has said it would accept a peace deal approved in a Palestinian referendum.
This tendency toward moderation is not unusual among revolutionary movements, including the Palestine Liberation Organization, of which Fatah is a part. Typically, official doctrine changes more slowly than actual practice, so Hamas should be judged more by its behavior than its charter.
In any case, as much as the U.S. and Israel tried to isolate and ignore Hamas after it dominated the 2006 Palestinian elections, the group isn't going away. A better strategy is to encourage its mainstreaming.
Theoretically, peace talks could take place between Israel and a transitional Fatah-Hamas government, just as the recent talks took place with an Israeli government that included members who reject a Palestinian state. More realistically, Abbas should be given the space to reconstruct, if he can, a functioning Palestinian democracy.
After which, Israel would have a truly authoritative partner for peace. Or, should Hamas prevail again at the polls, Israel could say without exaggeration that it has no partner at all.

To contact the senior editor responsible for Bloomberg View's editorials: David Shipley at davidshipley@bloomberg.net.

--Editors: Lisa Beyer, Michael Newman.
To contact the editor on this story:
David Shipley at davidshipley@bloomberg.net