Sunday Question for Conservatives
What should the House do on immigration?
by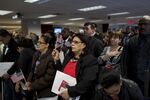 What do you want the House of Representatives to do on immigration? Among the possibilities: pass the Senate bill, pass one or more House bills (if so, what should be in them?), or do nothing at all. What do you think?
This column does not necessarily reflect the opinion of Bloomberg View's editorial board or Bloomberg LP, its owners and investors.