view
China Rectifies Relevant Organs
Why did China's official People's Daily newspaper willingly turn a semi-popular Twitter account that's in the business of mocking corrupt Chinese officials, into international news?
by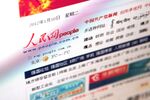 A sense of humor requires the ability to reflect on oneself critically, if not whimsically. Both of these qualities, unfortunately, are absent from the Chinese Communist Party and its official mouthpiece, the People's Daily newspaper. Proof, if any was needed, came last Thursday when the English-language version of the paper used its Twitter account to tweet a demand that Twitter -- a service blocked in China -- "rectify" The Relevant Organs, a semi-retired salacious People's Daily parody Twitter account with more than 14,000 followers, most of who are Sinophiles who get the jokes.
"We hereby solemnly declare that this Twitter account is not related to or does not have any connection with Chinese official bodies, including People's Daily," the paper intoned in the sort of proper Party-speak it might use to weigh in on matters of state.
The Relevant Organs, roused from its semi-retirement and totally nonplussed, responded by suggesting that the People's Daily Twitter account is the real parody:
So it continued, with People's Daily Online English Edition publishing a "Solemn Announcement" distancing itself from The Relevant Organs, followed by a tweeted analysis of how The Relevant Organs had violated the service's rules for impersonation and parody accounts, and The Relevant Organs responding in kind:
It's unclear why People's Daily chose to attack the parody account now, but that it's happening at all is very much in keeping with the Communist Party's long-term interest in promoting Chinese "soft power." The concept is elusive, but generally means the ability of a country to project its values, culture and view of the world to other countries. In January, for example, President Xi Jinping gave a speech to top officials in which he explained that, in pursuing soft power, the "stories of China should be well told, voices of China well spread, and characteristics of China well explained." To accomplish this goal, viewed as akin to developing economic and military power, Xi noted that China needed to "better use the new media and increase the creativity, appeal and credibility of China's publicity."
In other words: China needs to use, among other tribunes, Twitter and other social media services banned inside China, to reach eyes and ears outside China. Thus, People's Daily, a newspaper that has defended China's Internet censorship policies, threw hypocrisy (and, possibly, legality) to the wind, and set up a Twitter account designed to convey a positive image of China -- and its most influential newspaper -- to people who might ordinarily associate it with cryptic editorials, a history of supporting autocracy and publishing occasional soft porn.
For The Relevant Organs, this combination of legalese and hypocrisy has been worth 3,000-plus tweets of brilliant, if insidery, satire, as exemplified by the parody account's bio: "China's soft-power vanguard, rectifying your thought since 2010."
It's a funny line (especially if you're a Sinophile), just so long as you aren't in the business of trying to improve China's international image among Twitter users who -- almost to a person -- are aware that Twitter is banned in China. In that case, it's very unfunny, and probably accounts for why the newspaper willingly turned a semi-popular Twitter account that's in the business of mocking corrupt Chinese officials into international news.
To contact the author on this story:
Adam Minter at aminter@bloomberg.net
To contact the editor on this story:
Nisid Hajari at nhajari@bloomberg.net
Before it's here, it's on the Bloomberg Terminal.
LEARN MORE