What Mattered This Week?
What do you think mattered in politics this week?
by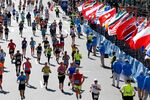 It was a slow news week, so how about this: Patriots' Day in Boston. The marathon took place with great enthusiasm. Maybe we're getting better at this stuff. Or, to put it another way: A scary situation last year didn't get in the way of a post-war -- or late-war -- backlash against infringements on civil liberties.
Next question: Will this backlash produce a real unwinding of what happened over the last decade -- and, if so, how much of an unwinding?
What didn't matter: The Cliven Bundy story wasn't likely to have any lasting effect before he got himself in trouble by talking too much. It isn't likely to have any lasting effect now that his high-profile allies have moved on.
What do you have? What do you think mattered this week?
This column does not necessarily reflect the opinion of Bloomberg View's editorial board or Bloomberg LP, its owners and investors.
To contact the author on this story:
Jonathan Bernstein at jbernstein62@bloomberg.net
Before it's here, it's on the Bloomberg Terminal.
LEARN MORE