What Mattered This Week?
What do you think mattered in politics this week?
by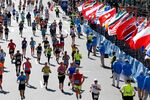 It was a slow news week, so how about this: Patriots' Day in Boston. The marathon took place with great enthusiasm. Maybe we're getting better at this stuff. Or, to put it another way: A scary situation last year didn't get in the way of a post-war -- or late-war -- backlash against infringements on civil liberties.