Why It's Time to Buy Russian Debt
S&P has downgraded Russia based on political guesswork and unreliable balance of payments data. In fact, Russia's creditworthiness looks much better than similarly rated Brazil's.
by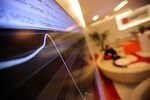 Standard & Poor's downgrade of Russia to one notch above junk grade makes sense as a reaction to political news from Ukraine, not as an economic judgment. In reality, dollar-denominated Russian debt is probably a better buy today than it has been in years.
S&P lowered Russia's long-term foreign currency rating one step to BBB- and its local currency rating to BBB, saying "the tense geopolitical situation between Russia and Ukraine could see additional significant outflows of both foreign and domestic capital from the Russian economy and hence further undermine already weakening growth prospects." This judgment was based on the sudden rise of capital flight from Russia, to $51 billion in the first quarter from an all-year average of $57 billion between 2009 and 2013.
That is a scary number, but the wrong one to look at when trying to determine Russia's creditworthiness.
Russia's balance of payment figures are neither transparent nor necessarily meaningful. In the third quarter of 2013 (the latest for which such data are available) the largest single source of foreign direct investment in Russia was Cyprus, followed by the British Virgin Islands and the Netherlands. That is a typical picture: Most foreign currency invested in the Russian economy is Russian money routed through offshore financial centers. Given the widespread use of foreign vehicles for tax and political security reasons, the recorded paths of money in and out of Russia are often just the visible part of business schemes.
The massive foreign exchange outflow in the first quarter is easily reversible if tension in Ukraine slackens. It's not as if Russian business had lots of investment opportunities in the West, given the current interest rate environment. Government measures such as a capital amnesty under discussion now could help stem the outflows: Much of the outgoing capital is corruption-related, and its owners are trapped in Russia as they cling to their government positions in a gradually self-isolating regime.
Deputy Finance Minister Maxim Oreshkin recently observed that the outflow pattern was similar to that seen in the fourth quarter of 2008, when companies and banks reacted to market uncertainty by accumulating and stashing away foreign currency. "If we remember the experience of 2008-2009, these are one-time events, and in subsequent quarters the tendency reverses," Oreshkin said.
To tackle the narrow task of determining whether Russia is going to be able to repay its debts, balance of payments and growth projections are useless because they are, essentially, guesses. What, for example, will the addition of Crimea, its output, population and subsidies do to Russia's GDP figures? S&P's prediction that Russia's current account surplus is going to disappear by 2015 "owing to imports rising faster than exports" is also a guess. With the ruble under severe downward pressure, imports will just as likely drop off. In the first two months of this year, for example, Russian exports of goods fell faster than imports: exports were down 5.8 percent compared to the same period of 2013, while imports fell by 7.5 percent.
The only numbers worth considering when making investment decisions on Russian debt are solid ones such as current debt levels, foreign reserves and the fiscal position. Russia, now rated by S&P on a par with Brazil, has a government debt of 7.9 percent GDP, compared to Brazil's 59.2 percent; S&P predicts that the Russian government's interest payments will not exceed 2.3 percent of revenues by 2017; and it has the third biggest foreign reserves in the world, at $482 billion, covering 20 months of imports.

Given all this, ranking Russia's debt just above junk level is a matter of faith and political prescience, or lack thereof, rather than economics. The fact that Russian 5-year, dollar-denominated bonds yield 4.1 percent, compared to 2.7 percent for Brazilian ones, is a signal to buy underpriced Russian debt while the weight of political guesswork is pulling it down.
This column does not necessarily reflect the opinion of Bloomberg View's editorial board or Bloomberg LP, its owners and investors.
To contact the author on this story:
Leonid Bershidsky at lbershidsky@bloomberg.net
To contact the editor on this story:
Marc Champion at mchampion7@bloomberg.net
Before it's here, it's on the Bloomberg Terminal.
LEARN MORE