Why It's Time to Buy Russian Debt
S&P has downgraded Russia based on political guesswork and unreliable balance of payments data. In fact, Russia's creditworthiness looks much better than similarly rated Brazil's.
by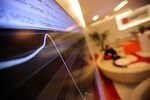 Standard & Poor's downgrade of Russia to one notch above junk grade makes sense as a reaction to political news from Ukraine, not as an economic judgment. In reality, dollar-denominated Russian debt is probably a better buy today than it has been in years.