Stephon Marbury Goes for the Gold in China
If you doubt there is a god, and that he/she has a sense of nostalgia and humor, look no further than the Chinese Basketball Association.
by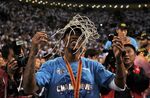 If you doubt there is a God or that he/she has a sense of nostalgia and humor, look no further than the Chinese Basketball Association.
The CBA has become the premier destination for former NBA players both pre- and past-prime. The league that brought us Yao Ming is now the face of the game's globalization, featuring a mix of young American talent and ex-superstars who still have some gas in the tank. Gilbert Arenas played for the Shanghai Sharks last year, and Tracy McGrady is a downright rock star.
Perhaps no one has enjoyed more of a Far East turnaround than Stephon Marbury, last seen stateside getting booed out of Madison Square Garden before getting booed out of TD Garden in 2009. He joined the CBA in 2010, playing for the Shanxi Brave Dragons and Foshan Dragion Lions. Marbury signed with the Beijing Ducks in 2011, leading them to a championship that season and winning a second title this past March. He's so popular in China that he's been immortalized in the form of a bronze statue in Beijing, for which Dennis Rodman gave the dedication speech. (This was before Rodman became North Korea's favorite son.)
But Marbury has got dreams beyond his current popularity and success as a player. His next goal is to coach the Chinese national team all the way to the Olympic podium. Complex Sports found this promise by Marbury posted to his page at Weibo, China's version of Twitter: "I can't join as a player but one day I hope to join as the coach. My goal will only be to do one thing and that's win a MEDAL for the country of China. I believe that day will happen. 我在"
Please, please let this happen -- though successful teams like Spain and Argentina might have something to say about that. The only Olympic medal China has ever won in the sport came in women's basketball in 1992. The men's team has never finished higher than 8th, and placed 12th in the 2012 London games. They haven't fared much better in other international competition, failing to ever medal at the FIBA Basketball World Cup. China is currently 10th in FIBA's rankings, behind hoops powerhouses such as Lithuania and Canada.
But if Marbury can turn around his image and gain hero status in another country, maybe he's just the man to coach this long-shot team to global glory. Now that Rodman has vowed never to return to Pyongyang, a team led by Coach Starbury and General Manager Rodman sounds good to me.
This column does not necessarily reflect the opinion of Bloomberg View's editorial board or Bloomberg LP, its owners and investors.