Ronald McDonald's Makeover Is Creepy on a Bun
How do you reinvigorate the creepiest clown to ever represent a family-friendly fast-food chain? Make him take selfies, obvi. 
by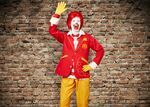 How do you reinvigorate the creepiest clown ever to represent a family-friendly fast-food chain? Dress him up and make him take selfies, obvi.
In its press release announcing a new "modern and relevant" Ronald McDonald, McDonald's describes its millennial makeover for the 51-year-old burger icon. The result is an even creepier version of the scariest clown ever to hold the title "brand ambassador."
Congrats, McDonald's: You've now elevated Ronald to the highly competitive category that includes the terrifying Quiznos Spongmonkeys, the blubbery Michelin Man and the frightfully fuzzy Phillie Phanatic.
The madness starts with a new wardrobe. Ronald now sports yellow cargo pants, because that's what the kids are wearing these days, apparently. On special occasions, he'll whip out a "whimsical new red blazer" and special bowtie. For nostalgic Ronald fans, he'll still don the big red clown shoes and Where's Waldo sleeves.
The old Ronald was relegated to charitable appearances for the Ronald McDonald House Charities. The new fashion plate is being loosed on the Internet. From the release:
For the first time, Ronald McDonald will take an active role on McDonald's social media channels around the world and engage consumers using the #RonaldMcDonald hashtag.
As a social media editor, I have a few issues with that: First, Ronald doesn't even get his own Twitter account? It sure looks like the KFC colonel and Wendy are running their respective fast-food Twitters. Second, that hashtag is way too long. It leaves Ronald with only 125 characters to describe his latest selfie, and customers with only 125 characters to tweet about how much terror he conveys. And third, haven't companies realized that playing with hashtags can be dangerous?
McDonald's executives have admitted the company has lost relevance among some consumers, evidenced by months of slipping U.S. sales and exacerbated by an overcomplicated menu. Chief Executive Officer Don Thompson said in January, "The key is going to really be to re-establish the trust of customers."
That explains Ronald's makeover. Because people really trust a full-grown man dressed as a clown in bright yellow cargo pants and gloves.
Here's an idea: McDonald's should stop focusing on Ronald's relevance and start focusing on the meat and potatoes of the brand, which happens to be . . . meat and potatoes. The new mission statement is, "Fun makes great things happen." Can you smell that? Eat it? See the problem?
The latest fast-food war is a $50-billion battle for breakfast. Taco Bell recently released the much buzzed-about Waffle Taco. McDonald's, which gets 25 percent of its U.S. sales from breakfast, appears nonplussed. The company recently posted this picture of Ronald petting a chihuahua, the Taco Bell mascot, on Facebook. (The chihuahua's subsequent whereabouts are unknown.)
When it comes to breakfast, I'm sticking with Mickey D's: The Egg McMuffin is a classic that won't easily be dethroned. As for the new Ronald? I'm not lovin' it.
This column does not necessarily reflect the opinion of Bloomberg View's editorial board or Bloomberg LP, its owners and investors.