No Keystone XL? Blame Canada
The Canadian government blames U.S. politics for stalling the pipeline. New reporting points to a different culprit altogether.
by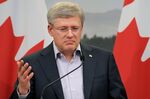 To hear the Canadian government tell it, Barack Obama's administration has yet to approve the Keystone XL pipeline because it won't stand up to environmental activists. Exhaustive new reporting offers a more persuasive explanation: The oil pipeline hasn't been approved because the Canadian government keeps screwing up.